I DIDN'T DROWN!!!  I am grateful for all your kind words, prayers and postive energy that you sent my way.  I could feel the support and I want to say thank you and recap the event.
We arrived on the scene Saturday night to survey the course and see what we were in for…admittedly mostly just to check the swim out.  I had done a super sprint triathlon with a 300m swim a year ago and I saw the same big orange buoys out in the water and made the assumption that they were marking the course.  The course was an out, over and back style. I was relieved in my mind because it didn't seem like the distance was out of my league.  It seemed simple, my mind was settled, we had a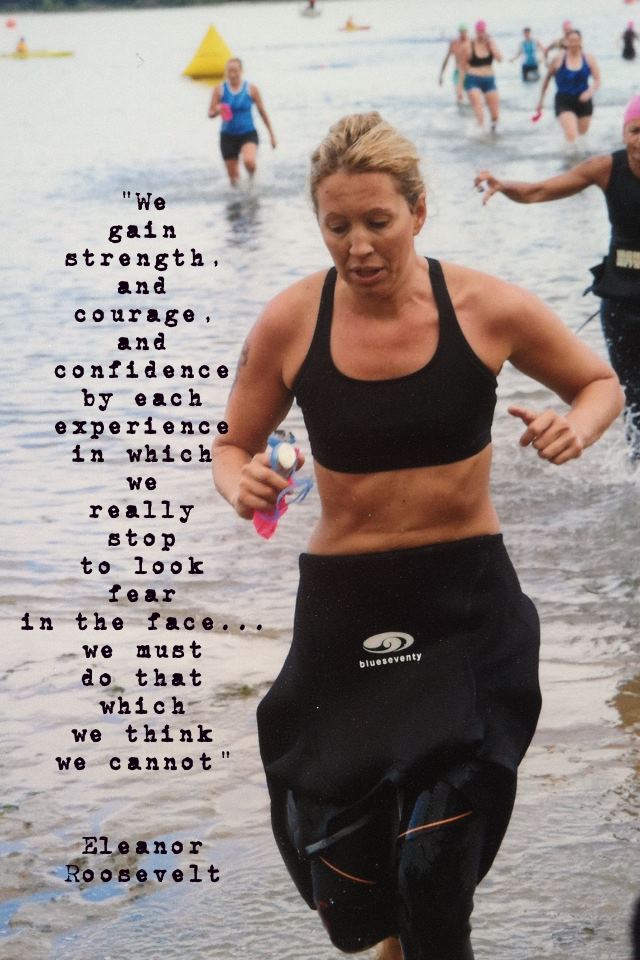 great meal and got a good rest that night. 
Arriving back in that same location for gametime the next morning was so exciting.  Part of the challenge of doing a triathlon is to make sure all the gear is in the right place.  I set up my transition station, put my wetsuit on, grabbed my goggles and swim cap and headed down to watch as the first wave entered the water to begin the swim.  There was a guy with a megaphone breifing us on the course and explaining how everything was going to work.  He was talking the course through and said "the orange buoys can be on either side of you but make sure the yellow dorito-shaped buoys are on your right."  I thought to myself "What yellow dorito-shaped buoys?  Wait, WHAT?!?!?  THOSE ONES WAY OUT THERE?!?!?!  HOLY MACKERAL!!!!  HOW IN TH HECK AM I GOING TO EVEN GET THERE?!?!?!"  It turns out the orange buoys (that we thought were marking the course) are just the sight buoys so you know what direction the yellow doritos-shaped ones are since they are so far it is difficult to see them. The orange ones marked about the half-way distance of each side.
Panic set in and I almost lost it.  I thought all my training was for not because there was no way I could make it that far.  Half mile swim…just seconds away…and all I can think of is I want to curl up in a corner over by the rocks and cry.  My Aunt Patty was standing with me, and with a little "You got this!" from her (Thank you Aunt Patty), I took a deep breath and settled down enough to make my way to the start.
I don't even know what they said besides "Go" and the water was filled with people splashing and kicking and arms and legs flying as a sea of pink caps flooded the water.  I thought to myself "all I have to do is put one arm in front of the other and keep kicking and breathing like I had been doing in training and I will be fine" and I found a tiny bit of peace.  I passed the first sight buoy with so much negative self-talk going on about how "I can't go that far" and "I can't do this" until a moment happened when I realized that I WAS DOING IT!!! …and…I was doing a OK job at it and I was even staying ahead of a few pink caps.  Then I remembered all of you out there and in my head, I began to review all the words you had shared with me leading up to the race.  I pictured all the faces of the people who wrote to me and were standing by me.  It brings me to tears just thinking about it.   Half way between buoy 1 and 2, I found a rhythm.  I would freestyle for 10(ish) strokes and side-stroke for 3-5 and catch my breath.  I remember finally finding a groove and realizing how beautifully navy blue the water is, how warm and wonderful it feels and how powerful my arms are as I watch them cross through my visual field.  It was not easy, the distance was no joke but I found myself rounding the second buoy and was heading towards shore.
If any of you have ever been in the water with me, I freak out when weeds are in or around my body and my heart skips beats with the sight of them.  My Mom would always say, "They are just bushes underwater" to try to help me deal with them.  In the navy blue abyss below me, I could faintly start to see the beginnings of the bottom…and weeds were EVERYWHERE!!!  Do you know how grateful I was to see those weeds because that meant I was so close to shore!!!  KEEP GOING!!!  There was a severe drop-off from the shore and when my foot hit land I was in knee deep water…which meant I could run and that I MADE IT!!!!  There was quite a crowd of people standing on both sides of the swim return area when I finished and I know not one of them really knew what it took for me to get to that point…but they cheered anyway and were part of my fan club, or so I pretended.
I finished.  I made it.  I didn't drown.  I kept going.  I swam 750m!!!
Oh yeah, and then there was the 12 mile bike ride and the 5K run and the finish line.
I have a friend that was sending me motivational quotes the day before the race and at the very end of the evening, just before I went to sleep, he sent this:
"Life shrinks or expands exponentially in proportion to ones courage." 
So so true.  Life is really, really good.  "Strength isn't doing something that you know you will succeed at, strength comes from doing something you thought you never could".  I finished the entire race and besides the HUGE silly smile on my face and a cheesy thumbs up picture to post to facebook, I thought "When is the next one?"
I don't know…maybe I am sick…  🙂