It's the simple things…It has been an absolutely beautiful day! I got to wake up in the beautiful state of Vermont this morning. I had the most delicious breakfast that the sweetest man made for me. We packed up the car and drove 40 minutes up to the beautiful little town of Stowe, Vermont. There is a beautiful chiropractic practice filled with people here that he has to tend to…I continue on up to the mountain, gear up and am out on the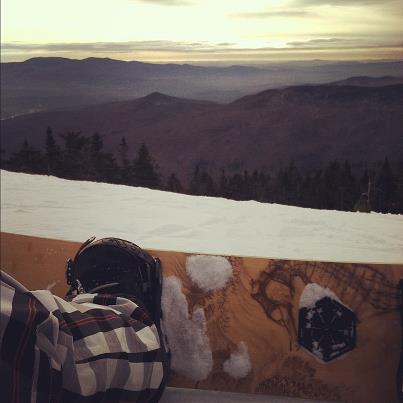 slopes by 8:30.
There isn't a whole lot of natural snow but Stowe Mountain Resort does an amazing job with their man-made snow…and it allows me a chance to strap on my snowboard!!! It is obvious they take a lot of pride in their mountain and the snow conditions they prepare for us to ride on. There are just a couple lifts open and maybe 4-6 runs with snow enough to get on them. The morning is brisk but the sun in shining and the view from the top is absolutely breathtaking. It is in these moments that I am surrounded by so much beauty that I have an overwhelming feeling of being so grateful for my life!
I cruise for a while, getting the most out of each run. I wish I could explain the feeling on a snowboard, for those of you who have never been. It is a controlled slipping and sliding. There is some of it that you can take charge of, however so much is about finding the best line down the run and committing. It isn't an adrenaline thing for me…for some, I am sure it is. For me, it is about being so present to the conditions, so conscious of the next move that there isn't time to think about one other thing. It is meditative, freeing and makes me feel so ALIVE!!!
I meet up with a couple new friends and do a few runs with them to finish the morning.
It is lunchtime and in just a short 15 minute drive is that sweetest man that made me breakfast this morning…he will be needing to find lunch as well, so I join him.  In this small town of Stowe, there is some really incredible hippie restaurants that are simple and easy.  It is quite a common thing to find good quality, healthy food in this area.  I LOVE THAT!!!  We have great conversation and a huge laugh about a "mullet email" and then he has to head back to serve his people for the afternoon.
I find my way up to a spa.  I need to use their facilities in order to clean up and get ready for the rest of the day. It was going to be a $50 entry fee into the spa however they allowed me to use their shower and lounge area for $20.  What a treat!  I flew late last night after a long, good day of work, got up early this morning, snowboarded hard for a few hours and by this point I am beat and just need some quiet time.  It was the most beautiful place and such an awesome way to spend the afternoon.  They didn't skip a beat when it comes to details around that place and I appreciated every bit of it.
My next move was to head back to town and do a little bit of shopping and here I sit in a quaint coffee shop, able to have an extra moment to blog.  So far this has been the perfect day!
I am writing out all these details so that you can experience the simplicity of what made my day so wonderful.  It truly is the simple things that make this life worth living.  It is a smiling face, a breakfast made with love, kisses, hugs, a car ride through the mountains, time on the slopes, beautiful scenery, great food, big laughs, a warm shower in a beautiful place, a quaint little coffee shop, and time to share it all.  Life is beautiful, however things are so much sweeter when shared.