The rose is known for it's beauty and energy.  It is a symbol for "love and beauty" and different colors mean different things.  I remember growing up, when I got a rose that was white, it meant something similar to the "like" button on Facebook, yellow meant "friendship" and red meant "love".  When roses were delivered in high school from someone, the color truly was significant…but the bottom line was everyone loves roses.
This evening I was having wine and a bite to eat with a friend, and since it was Mother's Day, the restaurant was giving red roses out to all the females…basically making the assumption that they were mothers.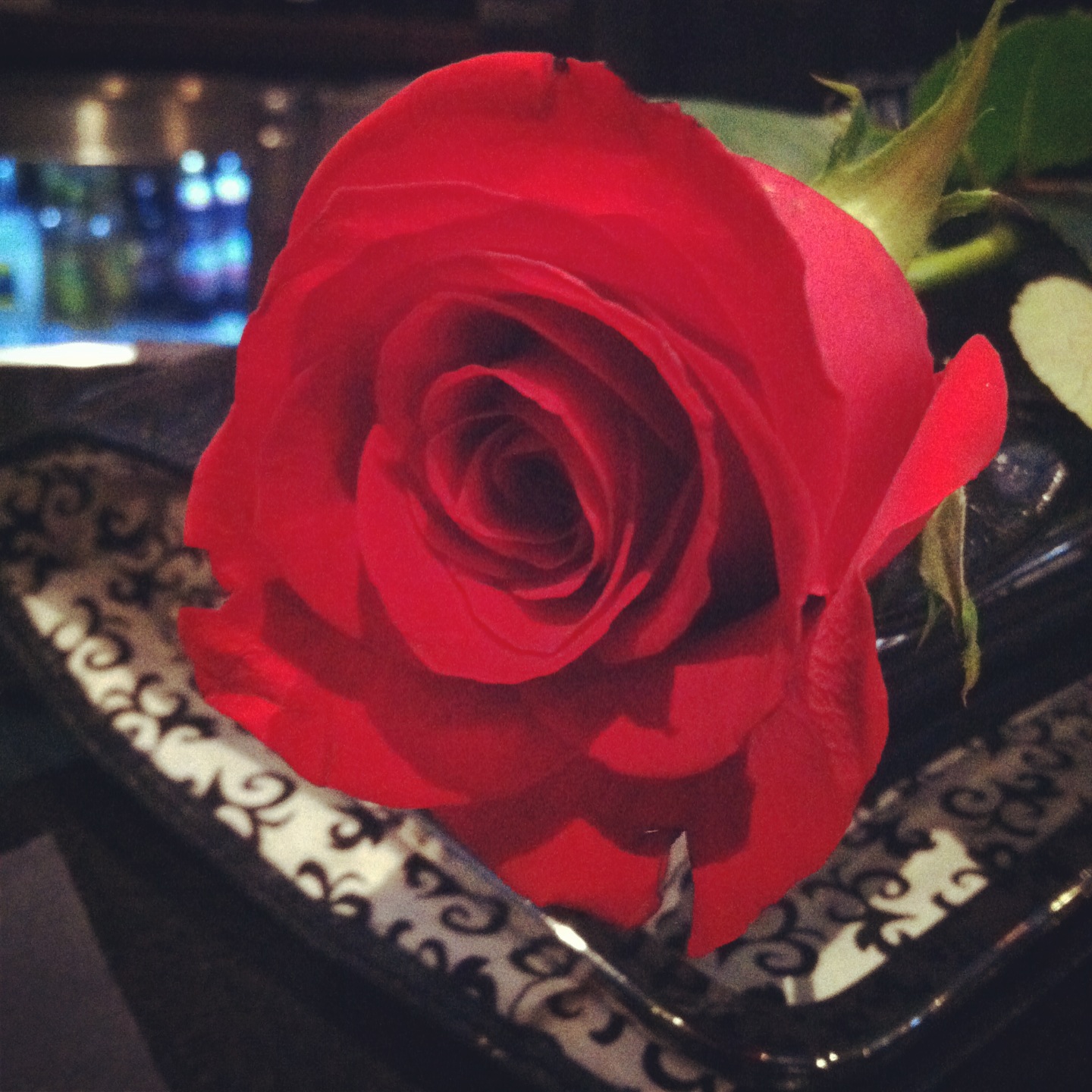 One of the servers at the restaurant taps me on the shoulder and says "Ma'am, would you like a rose?"  Instantly, and based on my assumption that "roses are for mothers only" I said "No thank you.  I don't deserve one.  I am not a mom."
WOAH!!!  HOLD YOUR HORSES!!!!  …now all of a sudden I have made an assumption that in order to "deserve" a rose, to be "worthy" of receiving a rose from a random restaurant server, I must have birthed a child into this world or somehow married into a step-mother role.
When absolutely ridiculous statements like that fall out of my mouth, a HUGE red flag goes up indicating it is a good time for me to take a step back and evaluate where on Earth it came from.
The friend I was sitting with was just the perfect person to have this conversation with as he reminded me that I am worthy of a rose…and so much more.  "You are like a palm tree in the North Pole…you give hope and you give life and put a smile on people's faces".  "Leaders and movers in the world were never placed on a yacht in the Bahamas, they were always where hungry and thirsty souls are." and "Bloom where you are planted."
Thank you my dear friend.
So I took the rose and I placed it on my purse and it became the center of conversation and a focal point for the rest of the evening.
Have you looked at a rose lately?  If you sit and are really present with a rose and you take the time to check out the intricacies of it's structure…it is truly magnificent, a beautiful natural work of art.  As I brought the rose up to my nose for a smell, I was taken back by the beauty of the layers and layers of pedals that created this amazing thing…and to think all of that came from a very small rosebud is absolutely astounding.
In its infant stages, all of that gorgeous structure was already planned and mapped out.  A rosebud holds so much potential that is only expressed if it is nurtured and given what is necessary for growth.  …and the same holds true for each one of us.  There is such a magnificent, grand plan that will unfold in perfect timing and perfect beautiful structure if it is nurtured and given what is necessary for growth.  And if you look around, you will find this is also true for everything around you.
So let the beauty of a rose remind you of your inborn, INNATE potential to be magnificent and grand and beautiful and loved.  When you walk by the floral department in your local grocery, take a second glance at the beauty that is the rose in all of its gorgeous shades.  But do more than that…pick one out of the group, buy it, take it home, put it in water and place it by your kitchen sink.  Let it be your early morning reminder, your lunchtime reminder and your after dinner reminder of the beautiful potential that is you.  Nurture that potential and give yourself what is necessary to grow…and then get busy blooming where you are planted.