I have a very tiny home that I go to about 4 days a week.  It is about 2 feet by 6 feet and is easy to transport and move from place to place.  This tiny home is my yoga mat.
As I enter the yoga room, I always find myself gravitating to the same location on the floor.  In one yoga studio is is one particular location, in another studio it is another spot and the third is still quite a different spot.  There is a feel to the location in the room and is all very much part of my process.
I usually arrive early, sometimes 30 minutes early, because I want to be in that same spot.  It may be a location where just a class or 2 before, I found myself staring at a ceiling tile and bursting out laughing.  It may be a spot that just the day before, I left a huge puddle of tears on the floor.  It may be a place that a week prior I had such an awesome flow and was really linked in to whomever was practicing next to me…either way there is a reason, and I cannot always put my finger on the why of my choice in locations.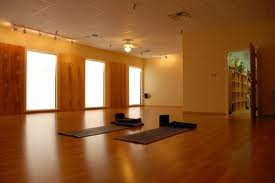 When I arrive at the perfect place for my tiny home, I line my mat up perfectly parallel to the planks of the wood floor, fold my hand towel in half and put it near the top of my mat and find the ideal un-kick-able spot for my water bottle.
As I am laying on my mat waiting for class to start, I spend a little time observing others as they walk in to find their "spot" to set up their tiny home for the next 60-75 minutes of their lives.  It is interesting the process they go through.
Some walk in confidently, drop their mat, roll it out, set up their water, climb on and lay down to meditate.
Others set up their tiny home, lay down, get back up and move to the opposite side of the room with a "something about the mojo of that spot isn't quite right" tone to their walk.
Still others will stand by the door and survey the scene to decide their plot before making a move and others will stand and have a discussion with their friends about perfect location for their tiny homes.
There is such a magic to all the happenings.  People arrive at different times for different reasons but one by one we all stake our claim to a 2 feet by 6 feet plot of wood floor to set up our tiny home and by the time class is about to start…it is all in perfect order.
The floor of the yoga room is covered in brightly colored mats of all shades, big towels, little towels, water bottles of all shapes, sizes and colors, and beautiful bodies of all shapes, sizes and colors that have found a "tiny home".
The dance begins.  The music fills the room.  The sweat pours onto the mats.  There is reckless abandonment during the flow…a vulnerability that you would only find if you were inside your own home and no one was watching.  The bodies turn and twist into all kinds of shapes and forms and the energy is indescribable.
The classes I attend are taught with such incredible intensity that it sometimes takes everything I have to keep breathing just to make it through the next movement.  When I am physically working that hard, there is no time to play with other thoughts in my mind and it is a 60-75 minute moving meditation.  The only goal ever set out by the instructor is to "keep breathing and stay on your mat", in other words…"stay in your tiny home".
At the end, everyone lays down on their backs and melts into the floor.  All the hard work, the physical, mental and emotional garbage has a chance to settle out and be absorbed by the floor of the tiny homes we have set up for ourselves.
When all is said and done, we all roll up our tiny homes and head out into the world.  It is the feeling that has filled the body at that very moment that gets us all to come back time and time again for years.
Our tiny homes find their usual spot in the back seat or trunk of our vehicles waiting for the next 2 feet by 6 feet plot of wood floor in another yoga room to stake claim of next time the chance arises.
The tiny home that I go to on a regular basis, though exposed to the elements of the room and surrounded by people within inches, is a profound place of peace for me.  I hope you have a place like that for yourself somewhere in your life as well.  Namaste.