I recently finished a light-hearted book by Tina Fey called "Bossypants".  She is hilarious and her book was a nice break from the "heavy" reading I usually do.  Tina really struck me with her section on "The Rules of Improvisation" and as I was reading one evening in the sauna, I thought how applicable these rules are to living an extraordinary life.  I wanted to share.
RULE #1:  AGREE.  SAY "YES!"  In improv, when someone starts off on a topic, the next person has to start by agreeing with them.  If they say their fingers are a gun, the next person has to agree otherwise the scene is dead in the water.  How often do you find yourself saying "no", whether it be to an invitation, an idea or just finding yourself disagreeing with a concept and shutting everything down?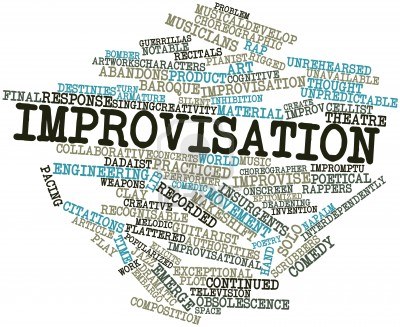 Just recently, I had an invite to situation that was completely unknown.  If I would have tapped into my logical mind, I could have come up with loads of reasons why I shouldn't go.  A friend once said, "I am willing to try just about anything as long as it doesn't end me in jail, I don't end up with a permanent scar and it doesn't hurt my credit score."  I have adopted this within reason and choose to say 'YES" whenever I can and often find myself experiencing some really incredible things.
RULE #2:  Say "YES and…" meaning agree and say "YES" first, but then offer something as a contribution.  An example in improv that she uses is, "Man, it is hot in here!!!"  "Well what did you expect it would be like inside a dog's mouth?!?!" and then scene continues.
Get involved in making the plans in life.  Get involved in the conversations you are having on a daily basis.  What you have to contribute is worthwhile.  Sometimes even if you disagree with what is presented, using the word "and" is a great transition to something that may open up the doors for all parties involved.  "Yes, and…." feels very different and more inviting than "Yes, but…"
RULE #3:  MAKE STATEMENTS.  Questions are good in certain scenarios, however when you make bold, confident statements in life, things start shifting.  "Whatever the problem, be part of the solution.  Don't just sit around raising questions and pointing out obstacles."
"Everything in life is figureoutable" -Marie Forleo
Start offering options and ideas instead of allowing someone else to always lead the pack towards a solution.  I absolutely love hanging out with some of my good friends and having brainstorming sessions.  I have my fair share of challenges that come up in everyday life.  I will present it to a couple friends and then the conversation is sparked allowing for all kinds of different solutions to surface and life takes a step forward.
RULE #4:  THERE ARE NO MISTAKES – ONLY OPPORTUNITIES.  In improv, if a scene starts one way but is interpreted another, it is an opportunity to go in a different direction and everyone involved needs to pick up the ball and start running.
Life is the same way.  We can plan, forecast and predict what will happen in life, however we have all been thrown a curveball as soon as we think we have something figured out.  For me, I do not know one thing that could describe life better than finding myself in "beautiful happy accidents" that have led me down some really great paths in directions I couldn't have even fathomed.  Along the course of my life, I have learned that I better quit pushing and I better start surrendering to the path I am on and letting go of where I think I should be.  When I do more of that, life is easier.
The rules of improvisation are 4 very simple rules that, when put together, can lead to a seriously fun life!  I want to challenge you to start every morning with a "Yes, and" attitude, contribute to what is happening around you, be part of the solution and trust that there really are no mistakes.  Those "beautiful happy accidents" that Tina talks about are where the juice of life is!!   Make the best of it…we only get one chance.