I had no idea when I was born, that my first best friend was already here waiting for me.
My cousin, Danielle, is 6 weeks older than i am and we pretty much grew up attached at the hip any chance we got.  Neither of us had sisters so we became that to each other.
My house was right next door to my grandparent's home and so every time she visited them, which was quite often, I got to see her.  We did everything together, from barbies to cabbage patch kids, from building sand castles to playing in tree forts, from blazing trails through the woods and carving trees to making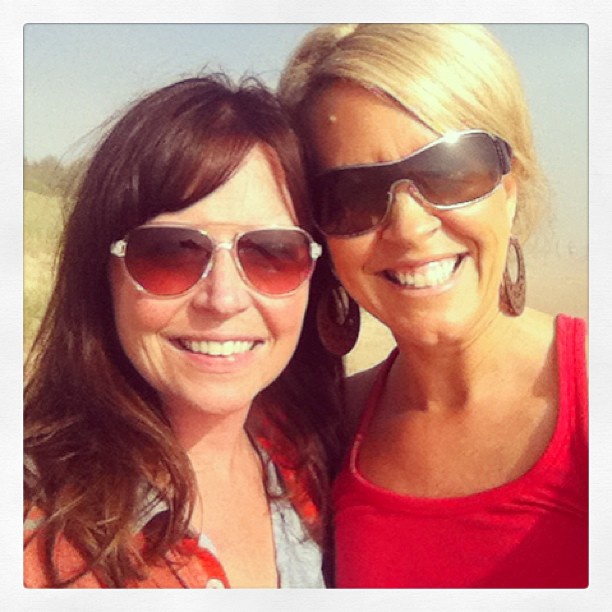 up stories as we spent hours out playing in the apple orchard.
We talked about our hopes and dreams and made plans for our lives.  I was always so jealous she got to go to Girl Scout Camp every summer…but she made up for it by teaching me all the songs she learned when she returned.  In fact, that radio in my head that plays music non-stop sometimes gets locked on that channel and as a 30-something…those songs stuck on repeat are more annoying than cool.
To this day, we make time for each other.  She is one of my biggest cheerleaders, and although she doesn't allow many to cheer for her, I am one of hers.  There seems to be a length of time, that if we go past too many days without having time to sit down and catch up with each other, we both go a little crazy and make time in our schedules right away.
I sent her a text message on Friday morning about how excited I was about going to the Water Hill Music Festival in Ann Arbor next weekend, and although I knew it was still another week away, I was stoked to have some time to hang out.  I had just seen her 5 days prior as her and her husband, Scott, along with a group of my nearest and dearest, spent the evening celebrating my birthday at my home.
On Friday, she didn't respond back to that text message right away and after a few minutes she called.  She doesn't ever call, we don't need to talk on the phone, we already know what each other is usually thinking so text and email are our norm.
Her voice was cracking.  She was seriously shakin' up.  Then she proceeded to tell me that Scott, her husband, had a brain hemorrhage and is in the hospital and asked if I could come up.  I had a couple obligations that day and headed up as soon as i could.
I have spent the past 2 days with my heart breaking right along side her, and I feel like these days are just the beginning of a long road.  She is one of the strongest and bravest that i know.  She has had her share, plus some, of adversity and challenge in her life.  She keeps her head up through all of it.  She plugs away and she always comes out on top.  She is one incredible woman and I know those who really know her feel lucky.
Her and her husband have the most beautiful love story, reconnecting after so many years and blending their family, his 2 kids and her 2 kids.  They have a really sweet love that is palpable when you are around them.  They perfectly compliment each other.
Right now she spends her moments sitting at his bedside, and only leaves to close her eyes and sleep on an uncomfortable pull-out/fold down chair thing a couple rooms away.  She talks to him, dodges all the tubes and medical apparatus to kiss him, loves on him, plays music for him (he is a music man) and holds his hand for hours on end.
He has shown signs of improving.  Will he come out of the state he is in?  We don't know.  Will he return to the Scott we are used to?  We don't know that either.  How long will it take?  We all wish we knew that answer but we don't know anything at this point.
What I do know, what I am sure of is that she will be ok.  There are going to be moment to moment, hour to hour, and day to day ups and downs.  She is the strongest and bravest that I know of.  I will not be able to stand with her all the time during this process as I have obligations in my life I need to tend to, but I leave my heart with her when I am not there.
I am writing this blog from the rawest place in my being.  My heart has been ripped out of my chest these past 2 days and i want to share this story because my family needs all the praying, meditating, affirmation-saying people we can get.  I am sending out a request to all the troops to please help lift up my first best friend and her husband.  They could really use your help right now.  Peace.