It is "Throw Back Thursday" and exactly 10 years today that I graduated from Chiropractic College. From the time I started college to finishing with my doctorate was also 10 years.
It is very clear that decades go on in the blink of an eye and it truly is important to take each day lightly and have fun. I have had so many incredible experiences and memories, and have learned so much in this past decade.
In the last 10 year:
I graduated from Chiropractic College with these great guys and loaded up my things and moved home to Fenton, MI.
I moved in with my parents, moved into an apartment, bought a condo and bought a home.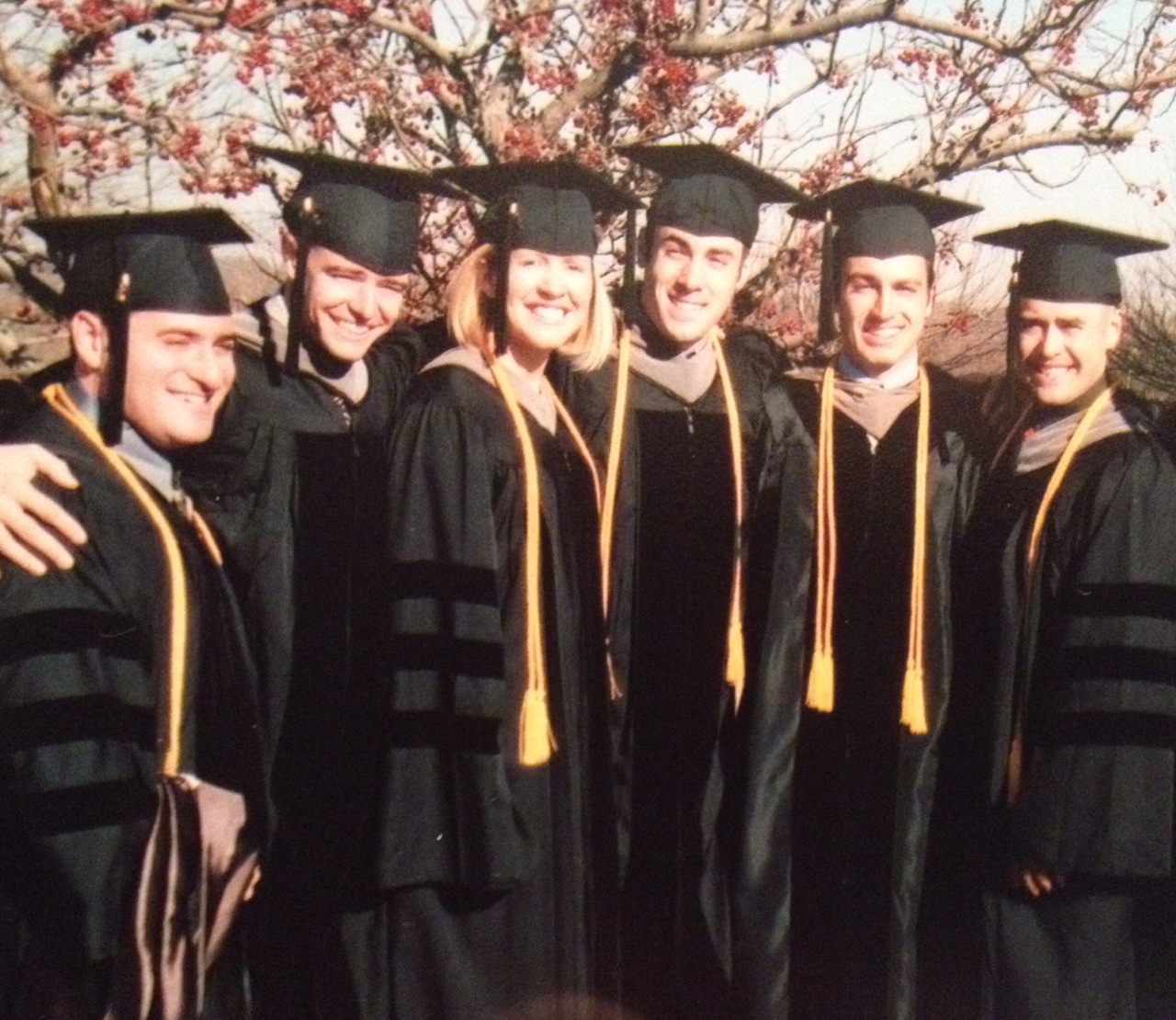 I started a practice, Cafe of LIFE Chiropractic at 110 Trealout Dr, moved my practice to 114 W. Caroline Street (where Crust is currently) and we found permanent digs in 2010 at 521 N. Leroy St.
I have celebrated the marriage of my mother to my step dad, and 2 of my brothers to 2 very beautiful women.
I have welcomed 4 nieces and 3 nephews, and watched my brothers become fathers.
I have been to countless birthday parties, holiday parties and spent hundreds of hours at the lake with my family.
I have had 5 extraordinary women help me run my practice…Thank you Lauren, Rachel, Vickie, Angie and Alyssa.
I have had 7 of the greatest massage therapists on my team…Thank you Rachel, Teri, Kelli, Rachael, Toni, Kel Leigh and Nicole.
I have traveled a lot and have some fun stamps on my passport.
I have participated in a Chiropractic Service Trip <<–YouTube picture book (Peru August 2014).
I have run a marathon, Chicago in 2006, many half-marathons, Crim 10 milers and other races.
I have finished 4 triathlons.
I have been to hundreds of yoga classes, maybe close to a thousand.
I took yoga teacher training and doula training.
I have been in love, been loved and fallen out of love.
I have done a FLASH MOB, jumped out of an AIRPLANE and taken a ride in a helicopter.
I have had health challenges, sports injuries and have more faith in the body's ability to heal than ever before.
I have attended births, I adjusted women before labor, during labor and immediately after birthing their babies.
I have checked and adjusted too many babies to count, more kids than I can imagine, and I can't even fathom how many adults.
I have adjusted people minutes after birth and hours prior to death, and those who have just lost someone important.
I have laughed more in the last 10 years than ever before in my life.
I have had more fun than ever before in my life.
I have cried so many tears of joy and sorrow.
I have never loved life so much as I do at this point right now.
I have made so many great friends, lost a few and learned so much from connections with others.
I have learned to embrace the moment, be present to the day and squeeze as much juice out of life as I possibly can.
I am so grateful, so very very grateful to be of service to a community that has given me so much.
I am so freakin' grateful for my support system of people near and far and grateful to have people in my life that help me keep my flame lit.
I had no idea when that picture above was taken at my graduation that all of this stuff would have happened.
It has been quite a ride, I look forward to seeing what the next 10 years will bring.
10 years today. Truly unbelievable it has been 10.