I moved into my home over 4 years ago.  If you have even been to my home or driven by, you may have noticed the lace curtains in the window at the front of the house (although more than likely you have not, they are unremarkable).  I am not a fan of lace curtains.
I have a very different style to my home and my practice that doesn't really fit with lace curtains.
So let me explain…this particular lace-covered window is above my 2-car garage.  There is an unfinished bonus room above my garage currently being used for storage.  It has 2 nice sized windows, one at the front by the driveway and one towards the back that faces house.  The one on the driveway side is the one with the lace curtains, nothing on the other.
For the first few years I lived there, I hadn't give those lace curtains a lot of attention.  I would see them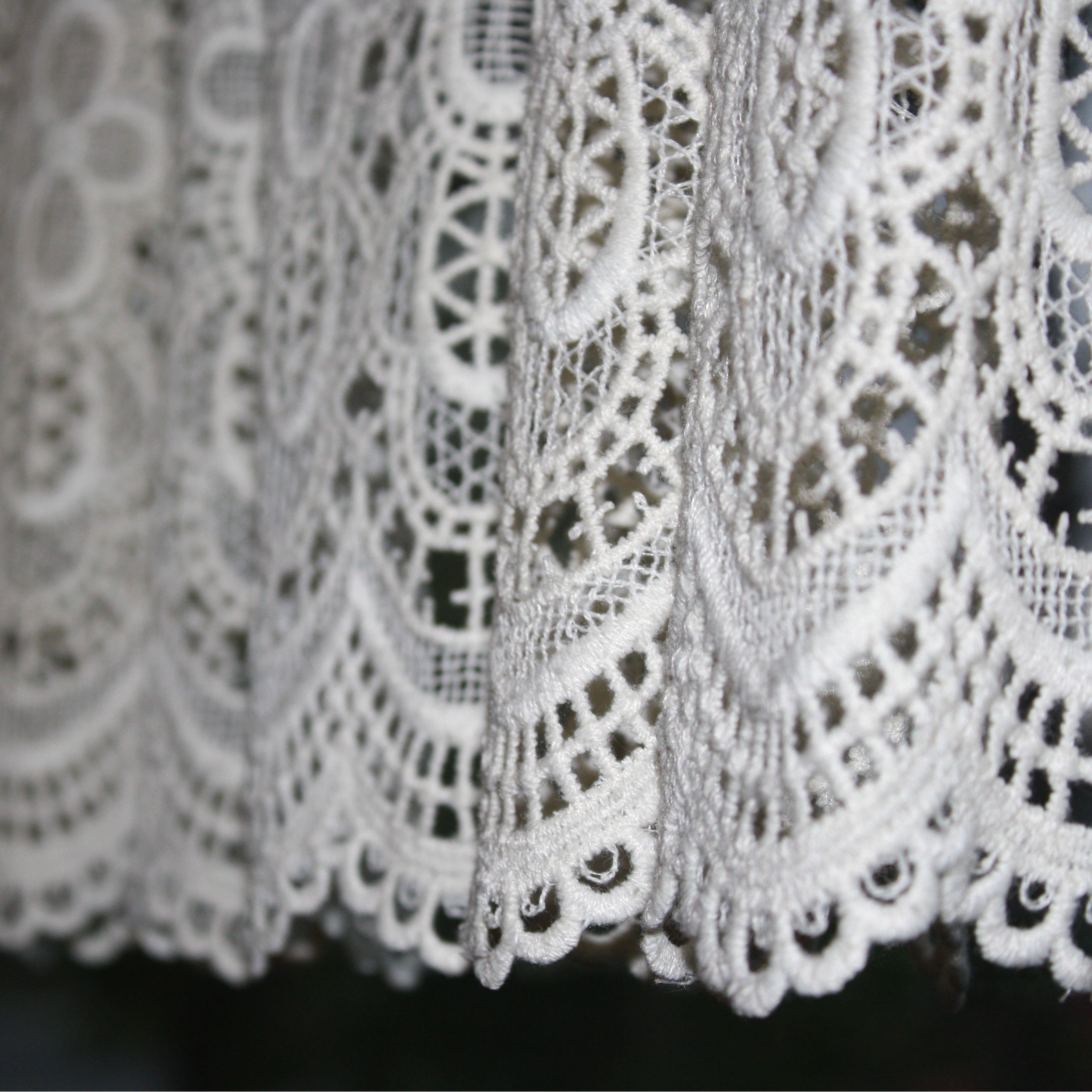 when I pulled in and out of my garage, however aside from that, they are not on my mind at all.  They are just sort-of there.
Over the past couple years, I have noticed them as the last thing I see when I leave and the first thing when I pull back into my driveway.  They are pretty, harmless and unremarkable.
But they are not me.  Not at all.
For the past 2 years, I have tried to figure out what window coverings I should replace those with.  What color should I put there?  Should it have some sort of texture?  Should it give you a hint to textures and colors used in the house?  Should they just be plain white like the siding on that part of the house?  Should they be loud and obnoxious?  Should they be long or short?  I am not a designer, but I have a feel that I always go for with my home and work spaces and these silly curtains had raised a lot of questions.
It is also one of those things that I need to be able to feel out, one of those things that I needed to try out a couple different colors and textures to know for sure.  But who really wants to go to the store and buy a few different options and drive in and out of the driveway until I got it right???  Not me!
In the past 6 weeks I have started to do some research.  There are a lot of homes with that same bonus room/window set-up above the garage (and maybe now that I mention it, you will notice it yourself).  My research consisted of driving around and seeing what other people have done with said window.
My private research has shown that most leave that window uncovered.  It isn't a room that you would need to block the world out of.  It also is a place that there is not enough light on a regular basis to make out anything but silhouettes of what is being stored, which is no big deal.
So I didn't want to completely commit to uncovered windows after being covered for so many years, so I went up there and pulled the curtains all the way to the side so that they appeared uncovered from the outside.  And I have now been driving in and out of my garage and have a huge smile on my face because of how many years I have pondered this silly decision.
It is funny to me because this entire time I had always wanted to just replace the covering and change the look of it all and had never once, prior to just 6 weeks ago, ever even considered that idea.
I think it is funny how the mind works like that sometimes…it wants to replace every little thing in life instead of just getting rid of it altogether.  I have noticed this lately in my life as I am getting more minimalist (Mom, I never said I am a true minimalist, just better with less) with the things I have in my home all the way down to my wardrobe and shoes.  I do not have to replace stuff with more stuff, and so many times it just feels better to dump it than to add more.
I am super grateful for this new perspective.  I am also really grateful to have made a final decision and allowing full sunlight in that bonus room.  It is the silliest place to learn a life lesson, I had no idea I could learn so much from those lace curtains.