A few weeks ago I was at a seminar in Toronto and there was a sign on the bathroom door of the convention center and I thought to myself "I'm confused."
This is what the sign looked like.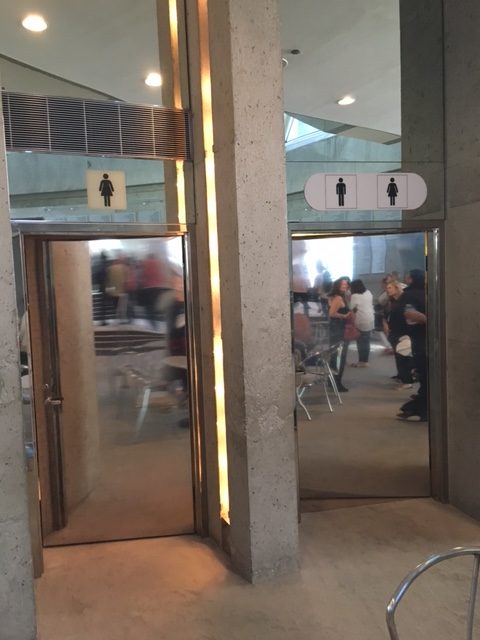 Most of you know that I do not have a TV at home and mostly listen to music and read on my downtime.  Because of that, I generally get most of my news from Facebook and all the hype about Target and their bathroom policy had many up in arms.
For a day and a half during the weekend, I walked by this bathroom in search of a "women's" bathroom and all the while was wondering what it would be like to go into a bathroom that was marked as above.
Would there be urinals in there?
Would guys be required to go to the bathroom inside of a stall?
Will I be walking in on someone or something that I do not want to see?
So I passed by this bathroom option all weekend and pondered it over and over…what is going on behind that door?  This is Canada after all and maybe they just do things differently here.
As I watched that particular bathroom door all weekend, I did notice that perfectly normal, and un-traumatized women were walking into and out from that door.  Men too!
And then on Sunday afternoon I decided I would take a chance and head through that door.
Once I got to the other side of the door I started laughing.  There was a set of stairs that went up with a sign for men's bathroom and another set of stairs that we down for the women's bathroom.  The women's bathrooms down that set of stairs had zero lines.  The other set of women's (marked as women only) bathrooms had long lines every single time, as many women's bathrooms do in this life.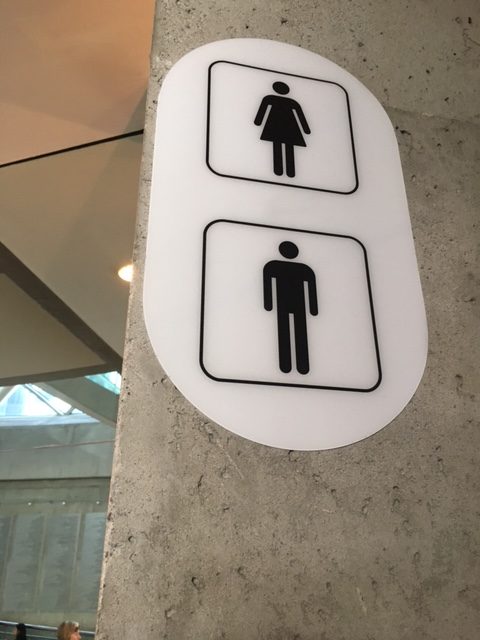 Once I crossed through that door and started laughing, I thought what a great metaphor for life: things are not always what they appear and are usually less scary than we think if we have the courage to cross the threshold.
As a culture, we really need to start paying a little closer attention to the sensationalism that is the news, and even the news on Facebook.  We need to be conscious of all the things that slip by our filters and get lodged into our minds and beings.  I am not exposed to news a whole lot, however even that whole Target thing, and I am sure that is not the only thing, got planted in my own mind without me even aware of what was happening.
Our subconscious runs most of our days for us without us even paying that close of attention.  We need to guard ourselves from a lot of what the media is promoting and learn to originate our own ideas, decision, perceptions and actions.
"I'm confused" may be a theme when moving through the next door that is marked in an unfamiliar way.  But I know and trust to drop my guard sooner and venture in just to see what is on the other side.  Maybe you will want to try that too!!!