Just when life seems like it is heading in one direction, something happens and we are off on a detour.
I absolutely love to travel…love, love, love to see new places.  I love having a change of scenery and switching things up on a regular basis.  I love taking the detour…that is as long as I have time for said detour.
I was sitting on a bench in a parking lot with some friends last weekend while we waited for our planes to pull up on the other side of a chain link fence…and as I describe this, I pulled a picture off the internet below so that you can get the visual.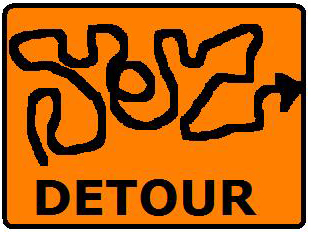 The scene…two 20 foot long park benches back to back underneath a rickety metal awning, a small white portable podium with "Sansa" and "Nature Air" written on the front, a chain link fence with a ragged gate that wouldn't hold up against any kind of force, a small refrigerator with a padlock on it labeled "Snack Bar" and on the other side of the fence are a couple 12 seater planes.
When we pull into the parking lot, it resembles more of a bus station than an airport.  The funniest thing is when you walk up to the small white podium, they ask you which airline you are flying with and then depending on which, one of 2 men step up to the podium to assist.
The luggage is tagged and the kind man hands me a laminated "Sansa" brochure that he calls my "boarding pass" and I am prepared to get on the plane.
As I am waiting, I realize that my luggage is still sitting off to the side of the runway and doesn't appear to be heading with the rest of the group to the luggage compartment in the belly of the plane.  The kind man then mentions to me that "Your bag no fit on plane due to balance.  I send to your home."
Ideally it is not good to ever travel separate from my luggage, but if you are telling me you are going to have it delivered directly to my doorstep, then it will be alright to let my ocean-scented, sand-filled bag of beach clothes show up to my home instead of being checked onto my plane.
So I jump on my plane and am off while my luggage is taking a detour.
In San Jose I reconnect with my friends for dinner and a little more time together as my flight will be departing at 2am.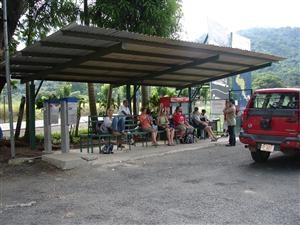 A few hours later, I arrive to the airport only to I discover said flight is now delayed to 3am.  The woman at the Spirit Airlines desk checks me through to Detroit and hands me 2 boarding passes, one for now and one for my connecting flight in Fort Lauderdale.
I arrive in Lauderdale realizing I have limited time to get though customs and make my connection.  At this particular moment I am grateful to be traveling separate from my large suitcase which I would have to wait for and recheck after customs…this expedites my transition onto America soil and I have potential to make up some time.
I sprint through the airport and make it to my gate with a few minutes to spare.  I walk up to the Spirit Airlines counter and the woman takes one look at my boarding pass, tells me I do not have a seat on that flight…AND THEN proceeds to board 4 "stand-by" passengers onto the flight while I am standing right there.
You know the level of disappointment when you order the most delicious food at a restaurant that you have been craving since the last time you were there 3 months ago…and when you get right down to the last bite, your best friend reaches their fork over and takes that last morsel of goodness?  That is what it felt like in that moment, MULTIPLIED BY 1,000!!!!
"Ma'am we have you booked on tomorrow's flight out".
"Are you going to compensate me for hotel stay for the night?"
"Well no."
Hearing this news after being up for 28 straight hours, did not go over well.  Having her board 4 "stand-by" passengers while I stood right in front of her also didn't go over well…MULTIPLIED BY 1,000!!!
This time, not so gracefully, I detour…
I find a cab and take a ride up to Lauderdale by the Sea and check-in to a hotel.  Serious false advertising and I make quick of a lesson that I should check a room out before checking-in.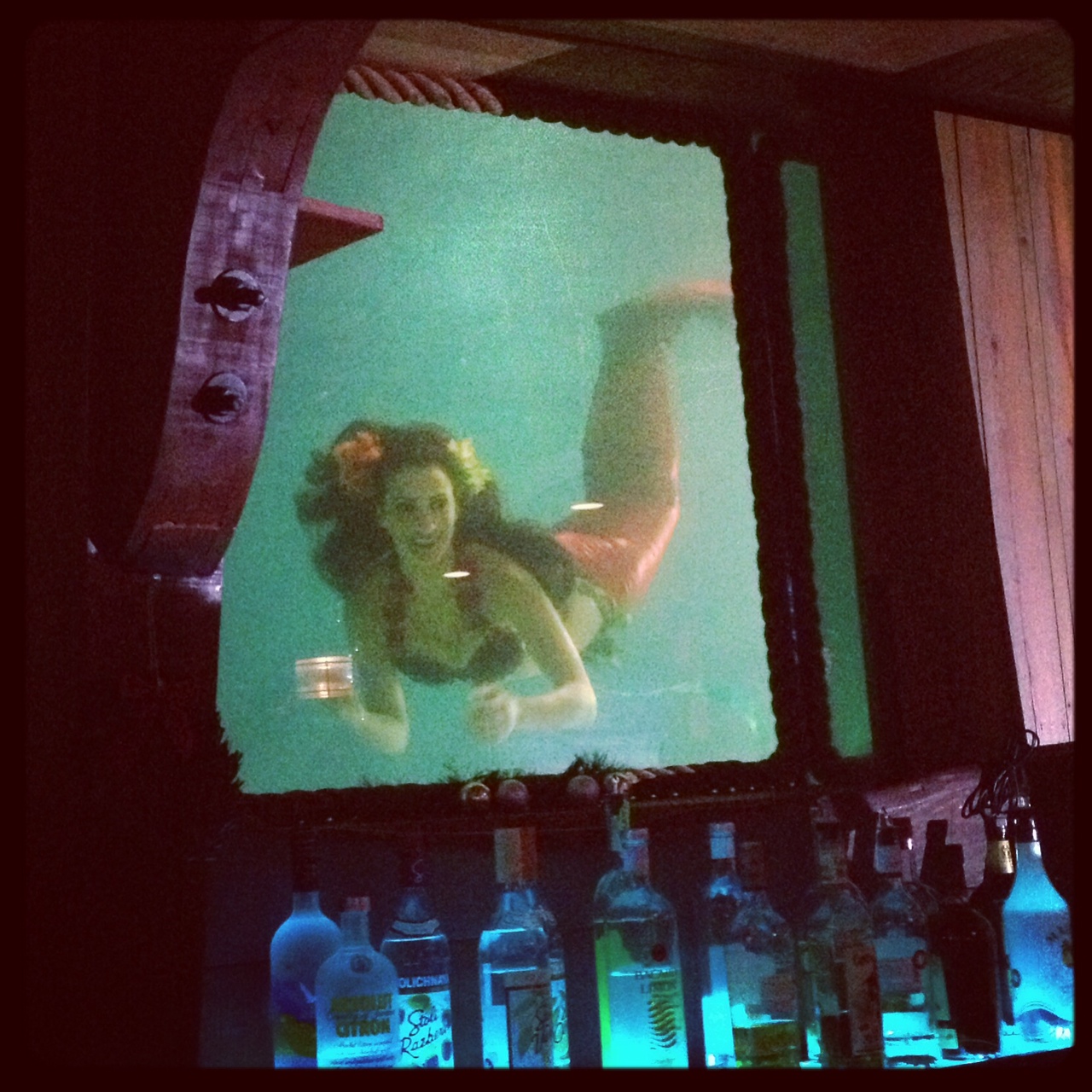 So I detour…
I find a nice Sheraton about 20 minutes away that has rooms available and get checked-in.  As I am heading up to my room, I spot a cool little bar inside the hotel that has windows into water tanks of some sort.  It is eye-catching and then I read "Mermaid Show 6:30 Friday and Saturday Evenings".  Today is Saturday, WHAT LUCK!!!  My original plan to nap for the next 6 hour will have a small detour in the middle to the Mermaid show.
I arrive early and pull up a seat next to an incredible couple that had just gotten off one of the cruise ships.  We talk about our vacations and then we detour into some really amazing conversation about life and living, things you usually discuss with long time friends.  Because my luggage was on a detour, my plan was to wear the clothes I had on my back until I got home…whenever that may be.  By the end of a 4 hour conversation with this couple, they pay for my meal and she offers me clean clothes.
As I lay down in my bed to sleep fast, I travel through my memory of the events of that day.  Every possible thing that could go wrong with travel, did.  It was truly challenging.  In the end, I was so grateful for the opportunity to see my very first Mermaid Show and spend time with these magnificent people.
My flight in the morning turns out to be simple.  It is an entire day later however I buckle into my seat, we take off on time, we land on time and off I go…easy since I don't have to stop and collect my luggage (which finally showed up to a local airport a week later…enough material for its own blog post).
On my drive home from the airport, I take a detour to Whole Foods…because I am hungry and I need food in my house when I get home.  In retrospect, I am grateful I made that stop as the streets filled with close to 2 feet of snow over the next 24 hours.
This trip seems to go on and on and on and there is one final detour…my best friend of almost 20 years opened her dream yoga studio, Bent Yoga, in Brighton on that very day.  It required that I truck through all the snow to give her a congratulatory hug, but it was all absolutely perfect timing.
Sometimes we are presented with a huge bright orange sign in front of our face that says "DETOUR" but often the sign is a faint whisper, a small calling in our heart.  If we can have a little bit of trust in the fact that there is a much larger plan, we can listen to those signs and settle in gracefully.
I am grateful for that trip, I am grateful for that time and I am grateful for the people that I met along the way.  I am one that seeks out adventure and enjoys taking the long way home.  Though that was a little too much detouring for my likings, I am grateful to have had that experience if for no other reason than it seems there isn't a possible way for a day of travel to get more complicated than that.
In the midst of it all, the moments of sweetness serve as a reminder to do my best to be a little more accepting of life when it takes its next detour.
Categories:
chiropractic
,
chiropractic for kids
,
Chiropractor Fenton MI
,
chiropractor for kids
,
Costa Rica
,
explore
,
Fenton chiropractor
,
find a chiropractor
,
friends
,
gratitude
,
heart
,
learning
,
life
,
life lessons
,
vacation