This past weekend I was up north and spent my days snowboarding at Crystal Mountain.  There were many, many moments during the days that I thought to myself "I am happy".  I then asked the question "What makes me happy?" and "What about everyone else?".
I live a blessed life and I have many things that add to my happiness.  In those moments while I was out on my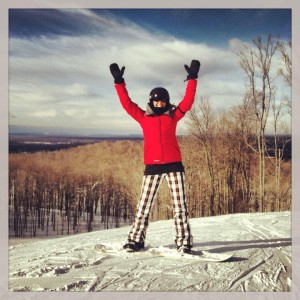 snowboard, my happiness was magnified by the fact that I had a warm bed to wake up in, I prepared and ate a great breakfast that fueled my body for my day, I had time to play in the snow, the sun was shining, I was enjoying great conversation with a friend, I was able to let loose and fly down the hill on my snowboard and I was up north which is a change of day to day scenery.
I thought to myself "I really wish everyone that I know could be out here having as much fun as I was having."  That thought was soon nixed by the fact that the slopes would be too crowded if EVERYONE I knew was out there, but it transformed to "I really wish everyone that I know could be doing something that would add to their happiness as much as snowboarding in the sunshine adds to mine."  Yes, that is a much more rational thought.
When I mention the thought of being happy, I am also reminded of a man that has been coming in to get adjusted at the Cafe of LIFE for years and never, ever gets excited about anything; Monday is not exciting, Tuesday is not exciting, Wednesday is not exciting, Thursday is not exciting, Friday is not exciting, the weekend is not exciting, literally nothing is ever exciting and I wonder about his internal happiness.  My thought is…WHAT ARE YOU WAITING FOR?!?!?!
Last night I attended a prayer service for an icon of a man who lost his life way too young.  This man was truly a happy man and he did his very best to show others a little bit about being happy ever chance he got in hopes he could help them smile a little more on the inside.   As I listened to his children speak about him, I was reminded of my own mortality and that we are never guaranteed a tomorrow and that life is really short, often shorter than we anticipate…so figure out what makes you happy and go do that!
Be HAPPY!  There is absolutely no time like the present.  If not today, then WHEN?!?!  There isn't anyone who is going to make you happy, you have to go out and make that happen for yourself.  Let's not wait one more day.  Get out there!!!
What makes you happy?  How do you add happy stuff to your day?  Share in the comments below, you may end up inspiring someone with your ideas or the things you do.
Categories:
balance
,
chiropractic
,
chiropractic for kids
,
Chiropractor Fenton MI
,
chiropractor for kids
,
death
,
energy
,
Fenton chiropractor
,
find a chiropractor
,
life
,
life lessons