I wrapped up 2013 on vacation with great friends in Costa Rica.  As some of you know, Costa Rica has become a popular surfing destination and there are opportunities for riding waves all over.
If you have followed me at all, you also know that I am an avid snowboarder and one of my happiest places is strapped to my snowboard in Colorado.
While in Costa Rica, my Colorado friends and I took quite a few opportunities to surf.  The ocean is really warm in that area so it is simple to throw a rash guard on, grab a board and paddle out.
I have done quite a bit of surfing over the years in Costa Rica, Ecuador, Belize, California and New Jersey.  One of my greatest challenges of surfing is getting the board and myself safely out past the break.  It is a game of finesse, timing and strength.  When one is a little on the tall and lanky side and riding a 9 foot board, it can be quite challenging as sets roll in.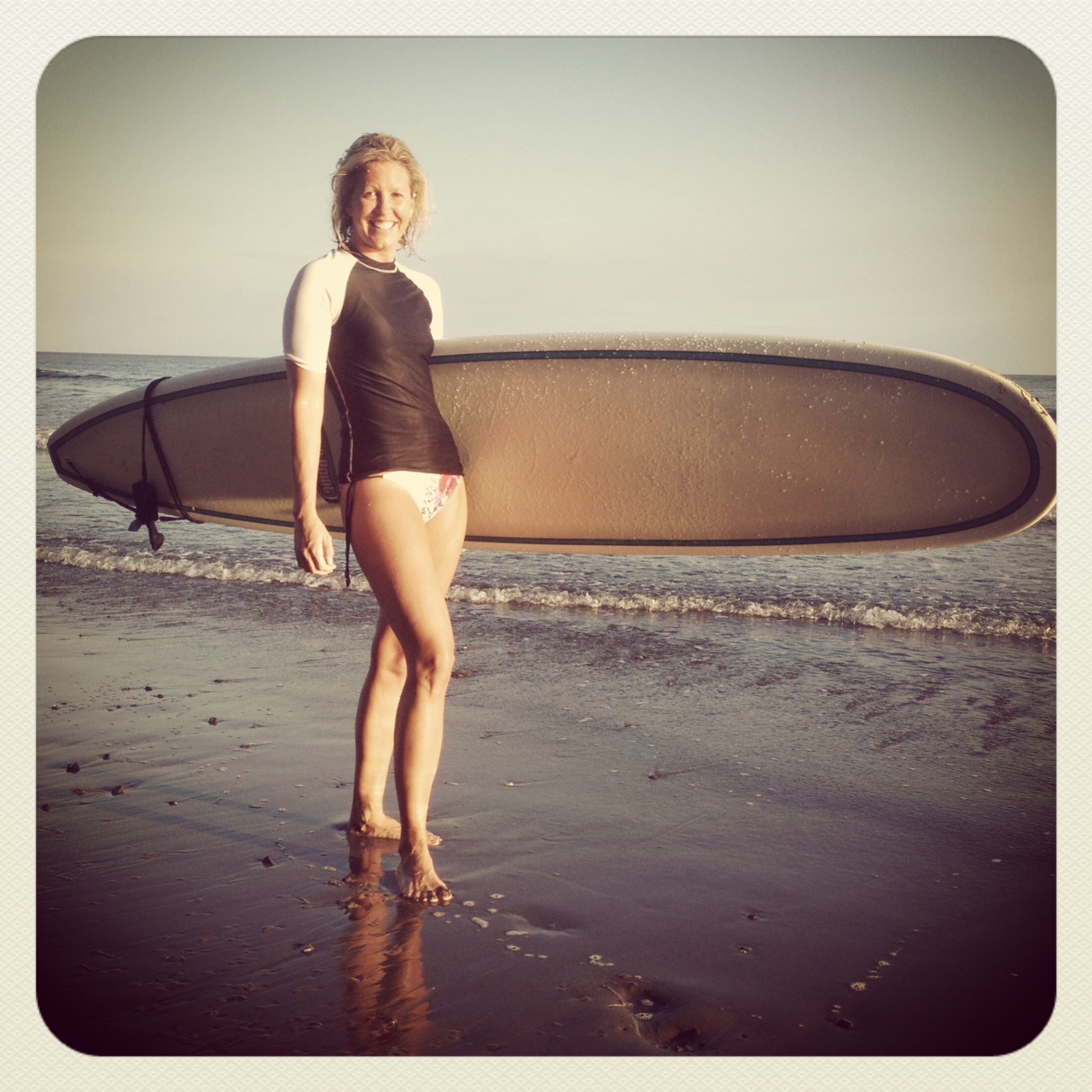 The particular beach that we surf at in this spot in Costa Rica, the water is soft, the waves are gentle and there is a beautiful rhythm to the ebb and flow.  It also makes getting out past the break just a little bit easier.
While I am out waiting for the next wave, I am thinking about all the snow that is piling up at home.  Though I am grateful beyond what words can describe to be sitting on that board in that moment, I also have a moment I am considering how much I am excited about getting on my snowboard when I get home.
The two sports are similar in some ways.  They way you stand on the board is the same, though snowboarding you are strapped in.  There is a meditative sense to both sports…in other words, you need to be present and in the moment or you can quickly find yourself in trouble.  There is a sense of working with nature, snowboarding-snow conditions, surfing-the powerful ocean.
My dearest love for snowboarding stems from many reasons that I will not go into due to the length of the list.  One of the key reasons I love it is because I get a chance to explore a mountain.   There is a chance to check out this run over here, that run over there, this restaurant for breakfast, that one for lunch, this group of Aspen trees, that group of pine trees, this trail, that chairlift.  You get the idea.
Surfing is different.  It is paddle out, catch a wave, come back to where you started, paddle out, catch a wave, end up back where you started, paddle out, catch a wave…and it goes on.  There isn't necessarily an area of water you are covering and not one area of that water is ever the same.
…but for me I realize how much it is about internal exploration.  It looks a little like this…This water is so beautiful.  The view from my board is amazing.  Its really awesome I have some good friends joining me.  I see a set in the distance.  I wonder if I am in the right spot. I can see that wave building.  Is it going to be big enough to ride?  Will it break right or left?  it it going to be too big for me?  Oh $#1t, here it comes!  I am in the right spot? I need to turn around and paddle. Where is all that anxiety coming from?  Will I catch this one?  Will I get rocked by it?…and honestly, none of this internal dialogue and analysis is helpful.
The only thing that is helpful is learning which wave to catch and then letting go.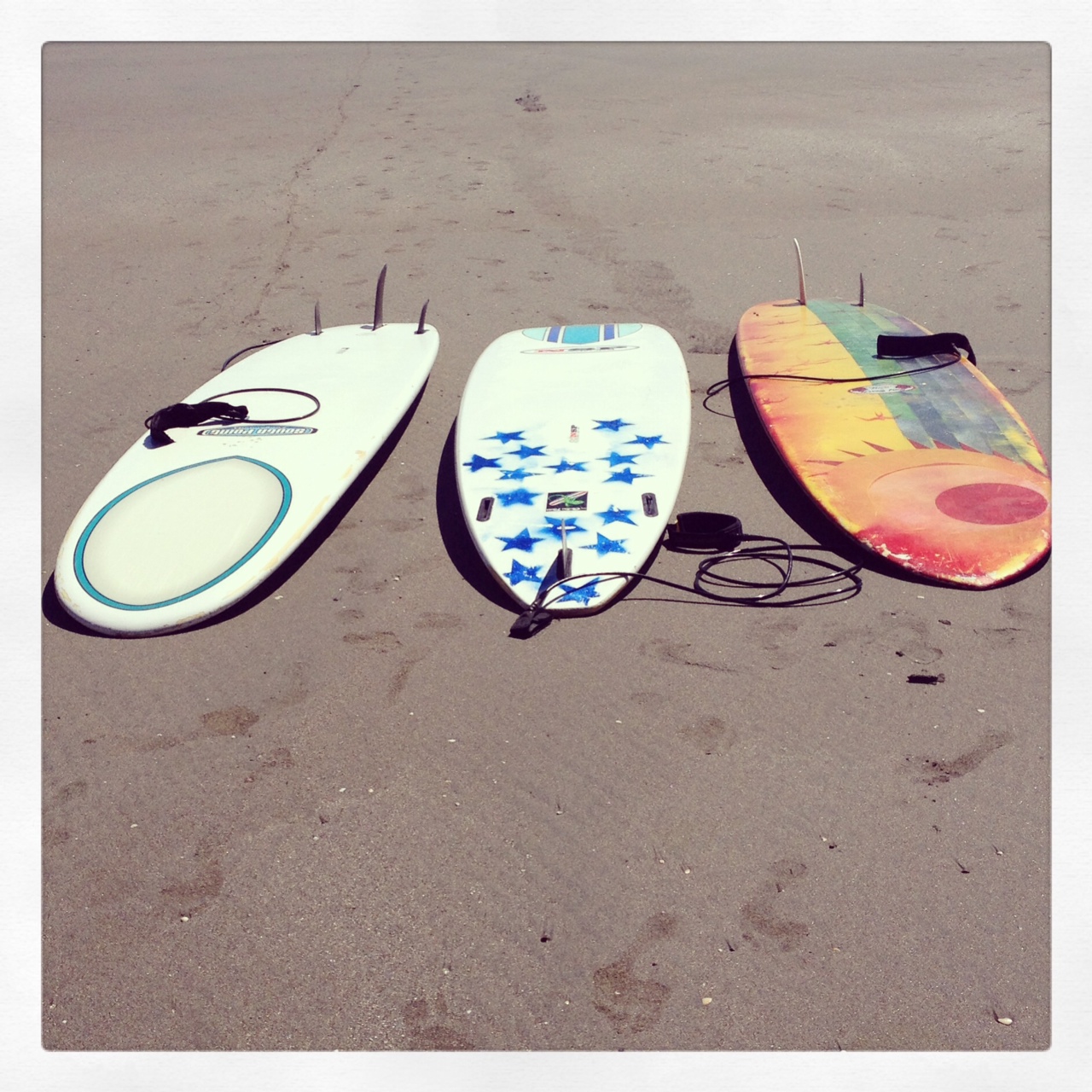 When mental resistance and fear come up and the mind shifts to and through all of that diologue, it is very difficult to go with the flow of the wave.  If you have the skill set, then paddle when you know you should paddle, pop-up when you know you are on it and then simple ENJOY THE RIDE!!!
It is such a beautiful dance with such a powerful force.  There is not one thing you can do to change the wave you are on.  The only thing in that moment is to turn the mind off, get to that feeling place, relax, let go and trust.  It is more of an internal exploration experience with a sense of adventure, thrill and flow.
Usually surf sessions last an hour to a few hours.  This gives time to rest and regroup inside and find more and more peace, grace and flow.
When you snowboard, you have a little bit of say in what the snow is going to do underneath your board.  When surfing, you have absolutely no say in what the ocean is going to do.
Surfing is about life and life is about riding the waves.  We have a choice what wave choose to get on, we do not have a choice about where that wave is going.  We have the ability to turn or get off that wave…but if we learn to trust ourselves, we transition into the flow of the powerful Universe gracefully.
(The following link is not my video but it is taken at the surf spot we spent most of our time so you can get a feel of the waves)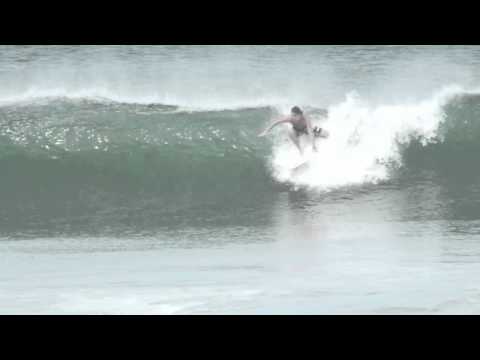 I am grateful for my life and the opportunities to explore and go on many adventures.  After this past visit to Costa Rica, the ebb and flow of life is forefront in my consciousness.  There is an ebb and flow to the days, the nights, work, family, friends, driving, eating…absolutely all of it.  The troughs make the peaks sweeter.  The peaks make traveling back down to the troughs exhilarating.  The most important part of all is finding internal peace so that wether at the top or the bottom while riding your waves, you remain graceful.
Peace to you as you start 2014.
Categories:
balance
,
chiropractic
,
chiropractic for kids
,
Chiropractor Fenton MI
,
chiropractor for kids
,
Costa Rica
,
dance
,
energy
,
explore
,
Fenton chiropractor
,
find a chiropractor
,
gratitude
,
life
,
life lessons
,
pediatric chiropractor
,
play
,
present-time consciousness
,
snow
,
snowboarding
,
surfing
,
water
,
waves