Five days from now I will be running the Detroit Half Marathon for the fourth time.  I like to set my summer running schedule/goals to include a half marathon in the fall.  It seems to be a really good way to keep things going and keep my body moving.  My summer also included, completely unplanned, dropping a full jar of almond butter on my foot (that put a huge knot in the tendon to my big toe) and a cold yoga class that my foot moved too far, too fast.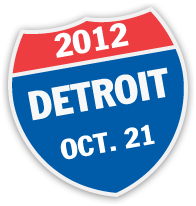 If you would have asked me just 2 days ago whether I would be running next weekend, it was still up in the air.  I have been dealing with strained foot joints and discomfort.  The pain came to a head this past week and even walking has been a challenge, but for some reason, running still felt good.  I think it has to do with the foot moving differently, seems easier.
I took the past week off of running and have been biking and swimming a lot and trying to put as little stress on my feet as possible.  It is amazing how much we take our feet for granted until one isn't living up to its full potential.  This morning was the determining factor for whether it was going to be possible to complete the race on Sunday.
I showed up to the gym a little earlier than I usually do because I wanted to have a little extra time to evaluate the situation with my bum foot.  I was a little nervous because my half marathon was in jeopardy…it was not a cheap race to register for and I really, really want the participation medal.  So I tied up my shoes and took off on the indoor track…and it felt good.  I was actually surprised how good it felt to move it like that and it wasn't putting much stress on it at all.
During the 3 miles that I ran, I was hyper-aware of what was happening with my foot and very conscious of my footing.  I realize the importance of watching my every step and making sure it is the best way I can put my foot down before doing so.  It was meditative to be that present but it felt good and still feels good.  I spend my days at Cafe of LIFE educating people on how important it is to listen to their bodies and I choose to walk my talk and do the same.  If my foot started screaming during my run this morning, I was going to throw in the towel.  More than that, I am watching out for my snowboarding season ahead of me and having a bum foot is not going to work out in snowboard boots out on the slopes!
So I ran, it felt really good, my foot will continue to heal, I will run this weekend and then I will give it a long, much needed rest.  I spent the entire workout time being really conscious and I was reminded when I returned to the locker room how important it is to be conscious in all of our actions during the day.  I walked in and there was a group of women and a staff member huddled together because one of them cannot find their locker.  The gym I go to has a HUGE locker room and you pick whatever locker you want to use that day and throw your stuff in…and you do it the next day and the next day and it has potentially of all looking the same and runnin together.  I hope she was able to eventually find where she had her stuff, that could really throw a wrench in your day.
Conscious footing, conscious thoughts, conscious actions, conscious choices…we really need to stay on top of it all because our subconscious may want to run a totally different program and will step up and do so without our even realizing it.  I challenge you to take a few extra seconds during your day to be a little more conscious and aware of what you are doing…I guarantee it will save time in the long run!