Through the months of November and December this year, we had a "Gratitude Tree" here in our reception area. Every time someone would come and get adjusted, they had to stop by the "Gratitude Station" and fill out a leaf and put it up on the tree.  Since we are into the New Year, the tree has come down however I want those gratitude thoughts to live on so I want to share them with you.
"my family, naps, resilience, hugs,communication, sun, the ability to communicate with loved ones who life far away, I am grateful for how much Erica is in touch with her Innate, ninja turtles, my children, my friends and family, love light and laughter, a healthy family, my husband, butterflies, saving grace, abundance of health,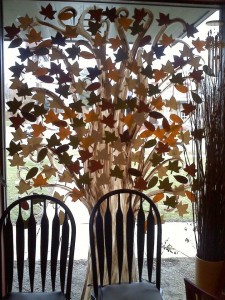 holiday parties, my body and its ability to heal itself and for chiropractic for helping it along, my amazing connections with people, my friends, my family, the Cafe, for the people in my life who inspire me to go beyond my own boundaries and fly, my cat Izzy, being able to wake up on a Monday and feel excited to go to work I LOVE my job, laughter, my dog he makes me smile every day and bring a lot of joy to my life, I am grateful for my loving family, all the people in my life, the lessons I've learned, the gift of love, I am thankful for my family friends and Dr. Erica and staff, flow let it flow!, my wife and kids, music, my physical mental and emotional health, I am grateful for time with people I love, family friends and good health, family and health, warm cozy sweaters, Jesus, my awesome LIFE, my back, a fun and happy place to visit…the Cafe of LIFE, my daughter graduating from WMU this week Magna Cum Laude from Honors College, sunshine, a healthy family, grateful for Erica and my health, my nephews, my son, family, my children Ashton and Lorilei, I am grateful for people who grow organic produce, Bloody Marys, having an "easy" pregnancy and the love and support of my wonderful husband, I am grateful for my Mom and all that she does to love and support me as I evolve and grow in this lifetime, being able to work on and overcome my challenges, fall, hot cocoa, friends family and community, I am thankful for God's love, family, LOVE, Thankful for good health, happiness, prosperity and EXCELLENT chiropractic service, unconditional LOVE, my children-grandchild Paul and health, I am grateful that I'm still breathing, I am grateful for ANGIE!, patience, I am grateful for all the amazing people that come to the Cafe everyday I love being able to serve you!!!, Innate Intelligence and the body's ability to heal, I am grateful for Angie Bucsi and how much light she brings to the Cafe everyday, I am grateful for a really amazing man that has recently entered into my life and I look forward to the journey, I am grateful to be blessed with an amazing job and people to work with, the strong women I know and love, God's favor, being in this community, abundance, I am grateful for my LIFE sometimes I forget how BIG, opportunities, I am thankful for the wonderful family that surrounds me, hunting season, Happy Holidays for all and good health and blessings, I am grateful for my LIFE!, health, I am grateful for unanswered prayers, friends who love me, memory, my sister she is my best friend, I am thankful for my husband-my friend and confidant, cake!, I am grateful for the ability to serve this community!, family and friends, the life lessons I've had the opportunity to learn from, health, my kids, I am thankful for my puppy Ava, smiles and laughter from my family and friend (and strangers who have happiness to share), my pets, my son Nathan, people who hire housekeepers, espressos and free puppies, able to pay bills, a healthy body, language and communication, health food and clean H2O, I'm grateful for my new baby daughter, Jeff Sheila and Stella, wine, sugar-free lattes, family, peace, sobriety, my awesome husband, the ability to read, I am truly grateful for my daughter Sandra, happiness, LOVE, my blessed life with my family and those who choose to still be friends, my cousin Nathan, knowledge, babies and grandmas, video games, I am thankful for Dr Erica and her calming soothing presence, I am grateful for good health, my wonderful family, I am grateful for my 3 amazing brothers and their wives and children, family makes the sun shine brighter, my daddy, able to live life happily, LIFE, being in my 40s life is good, Sam passed her driver's test look out Fenton drivers, for my husband's family, family, I am grateful for my book club, my support group that has supported me and helped me through a time of transition I am now a happier and healthier person, my dad boys sunshine sleep and wine, my 3 sons and husband, for my lovely wife and Cafe of LIFE, family and friends, thankful for my mommy, music, hope, book club, chocolate wine and my Integrity peeps, my beautiful family my health and my friends oh and Cafe of LIFE, abundance, my hubby, my life, gratitude, nice weather, my freedom, people who are positive, sunshine, Obama, family Jesus and friends, I am thankful for LOVE, I'm grateful for my grandma's cooking, I am thankful for Skype and airplanes!!!, my adjustment today, God's love, ice cream, book club, cousins, good health, Jesus Christ, family and friends who care, I am thankful for my nieces and nephew, the amazing staff and students at EKLC, chocolate and wine, us, pork chop lamp chop and cupcake, LOVE, I am grateful for the opportunity today to take one step closer to being open to divine light and energy, pets, Erica and Angie, for LIFE, that the cutest little boy I know calls me "mommy", my children, fresh AIR, the sun shining."
One of the things that Angie and I noticed the minute we put the tree up is that the mojo in the reception area shifted significantly.  When you start putting energy into things you are grateful for, more of that stuff shows up.  There is so much to be grateful for.  Please take a few moments and recognize something you are grateful for every single day or make your own "Gratitude Tree" at home!  Thank you for sharing with us!