I am just getting home from one of the greatest vacations I have ever taken…to beautiful Belize.  I want to share a little bit about the week with you so you can have an idea about the experience.  There are a few specific blog posts that I will add after this one with more details.
The week started out with a 2:30AM wake-up at my home in order to make a 6:00AM flight in Detroit.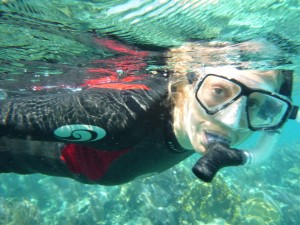 Travel from Michigan to Belize is quite simple with just 2 short flights and I was there just after noon Central Time.
It is always dramatic to leave the snow here in Michigan and just 6 short hours later be somewhere tropical.  I am amazed at air travel every time I do it.  It is absolutely astounding how far you can get in such a short amount of time.
The first night was spent at a hotel in Belize City.  Since I have been home, many people have asked me if I would recommend Belize for a vacation.  I cannot honestly say whether I would or not.  If you are going to the country of Belize, and if Belize City is a true representation of what the country is like (and I do not know if it is or not), I would maybe choose a different destination.  If you are going to do something like the trip I was on (and I also have no idea if the trip really represents Belize), then ABSOLUTELY!!!
On Saturday morning we ate an early breakfast and we all piled onto the "Batfish" which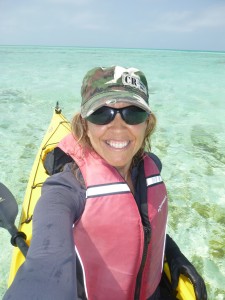 is Slickrock's vessel for transporting us to the island we will spend the week on.  It was a relatively easy (you will see why I say "relative" later in this post) 3.5 hour boat trip.
80 degree weather, sun shining, head sticking out through one of the hatches in the roof of the boat, wind blowing, great people, teal water, completely unplugged, and a week long vacation still ahead of me – this is the final 30 minutes of the ride before we pulled up to Long Caye, the small island we would spend our week on.  I will forever have that image and moment etched into my mind.  It was one of those "tears of gratitude" moments in my life…which I seem to experience more and more of all the time.
I cannot do the week any justice by describing the details of it all but the days went something like this…wake up, teach a yoga class, swim, breakfast, rest, take a sea kayak to a snorkel site, snorkel, kayak back to the island, lunch, kite board lesson, kayak surf session, rum punch and appetizers, jump on handlebars of a bike and ride to other side of island to watch the sunset, change out of bathing suit to dry clothes for dinner, eat fabulous food with lots of green habanero hot sauce, have great conversation, adjust the staff members or other people on the trip, listen to an informative and entertaining lecture given by our tour director, a warm breeze on the walk back to the cabana, and falling asleep to the surf just down from the cabana which is more like a lean-to and doesn't even necessitate 4 full walls.  Wake up the next day and repeat.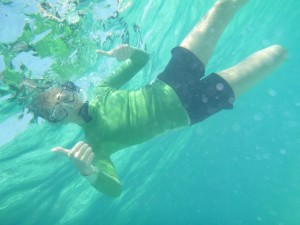 The staff was absolutely amazing and little did we know, they were tracking an intense storm heading our direction all week.  Even though the storm was getting pretty crazy, they didn't relay that information to us until it was absolutely necessary, allowing us to stay unplugged from society.
A few of us ended up leaving the island a day early due to the impending storm and what it may do to our travel plans and the necessity to be home for work on Monday.  The initial report was "a storm is going to hit tomorrow around 11.  Please have your luggage ready and at the boat dock by 9."  At breakfast the next morning it changed to "eat quick, go get your bags packed, have them ready at 8, wear your foul weather gear, grab a life jacket, put it on and zip it up."  Ummm…ok.
The next hour and a half was spent bracing myself against the side of the boat and the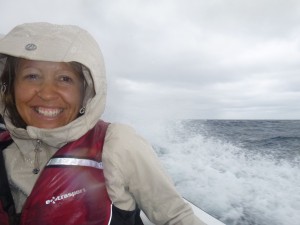 hull, with my back to the seas so that my hood would keep me dry, however mostly just so that I didn't have the visual as the boat was rolling up and over swells bigger than it (this picture is taken as things eased up a lot).  To say it was intense, is more than an understatement.  Good news is that I lived to tell the tale and laughed though most of it because I just couldn't believe it was happening in real life!
The crew of the boat, the staff and all that were involved really made the situation the best it
could have possibly been.  In fact, when I look at all areas of my life, I realize that the experience itself is largely impacted more by who I am with, rather than where I am at.
I wasn't ready to kiss the ground when we finally docked the boat…but I can see why people use that phrase.
Slickrock Adventures runs a top notch production down there in Belize.  Not only did they give us the option to get off the island early if we needed to, they also provided us a tour of Lamanai Mayan Ruins the next day as part of our week and an amazing tour guide to share the story of the Ruins.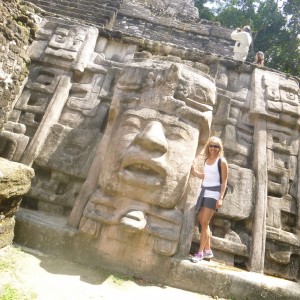 The flight home was a breeze on Sunday, I have recently learned to actually sleep on the plane and so I felt rested, rejuvenated and ready to take on my week back at Cafe of LIFE, my chiropractic office.
I live an amazingly blessed life and I feel fortunate to be able to take trips to places like beautiful Belize.  I love my reality and am usually looking forward to returning to it, however, leaving Long Caye to come home, I have to say I thought about how amazing it would be to be able to call that everyday life.  We only get one chance in this lifetime.  Make sure you are where you want to be, doing what you want to do, or at least take breaks from your reality to have some awesome experiences.  Life is really, really, really good.
Categories:
chiropractic
,
chiropractic for kids
,
Chiropractor Fenton MI
,
chiropractor for kids
,
explore
,
Fenton chiropractor
,
friends
,
fun
,
gratitude
,
pediatric chiropractor
,
play
,
vacation