What came to mind when you saw the name of this blog post, "The Wall"?  A WALL of your room?  Pink Floyd?  The Great WALL of China?  The WALL endurance runners hit?  The Vietnam Veterans Memorial WALL?  The Berlin WALL?  Hitting a WALL in a relationship?  Do you WALL off your heart to protect it from the world?  Do you put up a WALL and block out new ideas?  Maybe an idea is off the WALL?
There are many places in life where we may encounter a WALL, in fact if you look around you right now, I would bet there may be a WALL (or 4) somewhere close to you.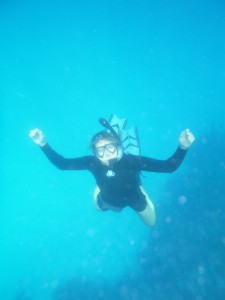 After my trip to Belize, I have an entirely new concept of a WALL.  The island of Long Caye, where I spent my week, is situated about 100 yards from a tectonic plate.  Tectonic plates are location on the Earth where there is large-scale shifts in the surface of the land.  Many plates are underwater and create drop-offs, or cliffs, in the ocean floor.
At this particular location there is a 3,000 foot WALL (or cliff) due to the tectonic plate activity.  There is a diving camp, Off the Wall Dive Center, that shares the island with Slickrock Adventures (the group I was with), and though I do not SCUBA due to my heart condition, there is world class diving within just a 5 minute boat ride from the island along this WALL.  During the week, the dive center staff would come over and share information about their dive trips and offer us a chance to dive if certified.  Hearing about "THE WALL" all week, I was beyond intrigued to have a chance to check it out.
On Thursday, I finally got my chance.
During lunch, our trip leader offered a "swim snorkel" trip around the island to those who consider themselves "good swimmers".  We were signing up for roughly a 2 hour swim experience so it was not a small commitment when you said "ok" to this option for the afternoon.
We got in the water around 2pm, swim suit, rash guard, neoprene shirt for warmth since we would be in the water for an extended period, booties, sun screen, snorkel and fins.  The beginning of the journey took us over huge swells and through rough water as we freed ourselves from the protection of the island.  I had my face down in the water most of the time watching the fan corral at the bottom as it swayed to the rhythm of the waves and current…absolutely beautiful.
We got through the rough water and things began to soften up on the surface as the ocean floor opened up to an expansive stretch of sand flats.  The view was breathtaking and reminded me of the most beautiful snowy mountainside with slopes of fresh powder.  The sand flats were sprinkled with sand dollars as we swam over from about 40 feet above.  I did a little bit of free diving however there was so much beauty from the surface that it wasn't really necessary to take a closer look.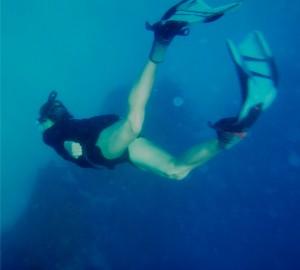 As we continued on our swim there was a drastic change in the ocean floor from sand, to corral for about 10 yards, to the deepest, darkest navy blue abyss.  With the beautiful colors, the textures of all the corrals, wildlife present and the deep blue nothing that goes on forever…it was hands down, the most magnificent thing I have ever seen in my life.
Something happens to me when I put my head into the water to swim; in the ocean, lake or even in the pool.  There is a silence that is so peaceful and comforting underwater.  When I arrived on the island a few days before, we immediately went on our first adventure.  I put my mask and snorkel on and stuck my head underwater and instantly went into a trance.  Our snorkel trips were always guided by a staff member. During the first trip, there were many moments when I was wandering off from the group, unknowingly until I raised my head up and could hear them calling to me from a distance.  The beauty was breathtaking and I was in my own little world.
In the shallow water I was awe-struck…so swimming above this cliff was real treat.  The experience was so overwhelming that I was brought to tears and had to take a moment with my head above water to re-gain composure.  The rest of the group of 5 continued to swim along as usual.
I am not sure why such strong emotions came up for me.  It could have been because the week was so amazing, my heart was so open and I was able to play and be free like a child.  It could have been because of the physical energy of the Earth at that location takes a major shift and quite possibly I could feel that in some way at that moment.  It could have been the sheer beautiful of the scene in front of me.  I could have been so many things…it was one of those moments that I had such pure, raw gratitude for my amazing life that my body's expression was tears.  Whatever it was that bubbled up for me in that moment, there really are not words that can express it fully. What I am certain about is that was an experience I will remember for the rest of my life and it will forever expand my concept of what a "WALL" is for me.
I face many WALLS as I journey through my life…because I push myself physically, mentally, spiritually and emotionally on a regular basis to find my limits, to find where my WALLS are.  From time to time, the WALLS that I hit seem insurmountable and may be an indication that I need to back up and reconsider my course.  Sometimes a WALL gives me good reason to turn around.  Sometimes its presence inspires me to find a way to get up and over it.  Sometimes it means that I need to figure out the first step to disassembling it…and other times I just need to sit back and enjoy the view as I soar high above it.
I hope I have done this WALL some justice describing it to you through the written word.  If not, I have an even better idea…plan a trip to go and witness it for yourself!  We only get one chance at this life…do not let your "WALLS" hold you back!
Categories:
chiropractic
,
chiropractic for kids
,
Chiropractor Fenton MI
,
chiropractor for kids
,
edge
,
energy
,
explore
,
Fenton chiropractor
,
find a chiropractor
,
fun
,
gratitude
,
life
,
life lessons
,
present-time consciousness