About 20 years ago, I was clued into this place called Antelope Canyon.  I am not sure where I heard about it but it has sat in the back of my mind for that long always thinking and knowing that I would visit someday.
I do not have a bucket list.  I do, however, have a LIVING FULLY list.  There are a few things on that and visiting Antelope Canyon has been one just waiting for the chance to make it happen
I am lucky enough to have quite a few phenomenal friends in my life, but 3 very special sisters.  I grew up with 3 brothers and begged my mom for a sister right from the start.  These 3 started as, what so many consider, "soul sisters".  However a couple months ago, as we traveled to a conference together, we decided to drop the word "soul" and just be "sisters".  Two of them are actual blood sisters, but two of us only had experiences growing up with boys and were ecstatic about the idea of having sisters.
We planned a sisters trip to Sedona, Arizona about a month ago.  As the weekend approached, one of my sisters likes to have a couple things planned out and so she threw out some ideas over text message…and one of them happened to be Antelope Canyon.
Of course I jumped at that chance and shouted "YES!!!  YES!!!  YES!!!" as loudly as I could…over text message…and the day trip was planned.
There really is plenty to see in and around Sedona, and traveling 3 hours by car one way was not really necessary, however it was so incredibly worth every minute in the car.  I don't think I could use words to explain this, let's talk with pictures for a bit…
The canyon hike was down into the earth around 30-100 feet.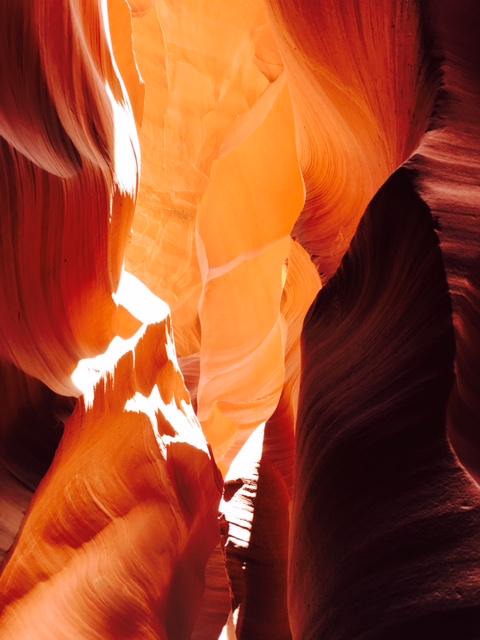 It is really just that beautiful!!!
The pictures are amazing and truly don't even come close to doing it justice.  They were taken with a simple iPhone camera, nothing fancy.  It is just that beautiful!  Of course it appears super peaceful as if nobody is around, however, there are hundreds and hundreds of people going through this canyon in a group hike format with about 20 people per group all day long…but the crowd hardly matters.
Please do yourself a favor and go check it out for yourself!!!  I'm serious!
20 years I have had this on my LIVING FULLY list…and I would go back in a second!!!
Categories:
Cafe of LIFE Chiropractic
,
chiropractic
,
chiropractic for kids
,
Chiropractor Fenton MI
,
chiropractor for kids
,
community
,
edge
,
energy
,
evolution
,
explore
,
family
,
Fenton chiropractor
,
find a chiropractor