"I will be on that stage someday" I said to my friend, Ameena, when as we were leaving The Circus Bar in Ann Arbor after "The Moth" StorySlam live event for the first time in early 2014. Ameena sent out a mass Facebook message earlier that day to my Book Club to see if anyone wanted to attend a "story-telling" event in Ann Arbor with her. I had been in the process of studying "The Art of Storytelling" for the past couple years and when I saw it was a live storytelling event, I jumped on the chance to attend.
I do my best to reply "yes" to any invite (within reason) that is thrown my way. I enjoy opening my eyes and mind to new things and ideas, and I tend to get involved in rich, rewarding experiences that start by simply replying "yes".
Some of you may know of, or already listen to "The Moth", but let me set the scene.
The Ann Arbor venue holds just over 300 people and all walks of life attend these events. The night consists of 10 volunteer storytellers from the audience. The stories need to be 5 minutes long, true, based on the theme set for the evening, and notes are not allowed. There are 3 sets of judges that are chosen from the audience and there is a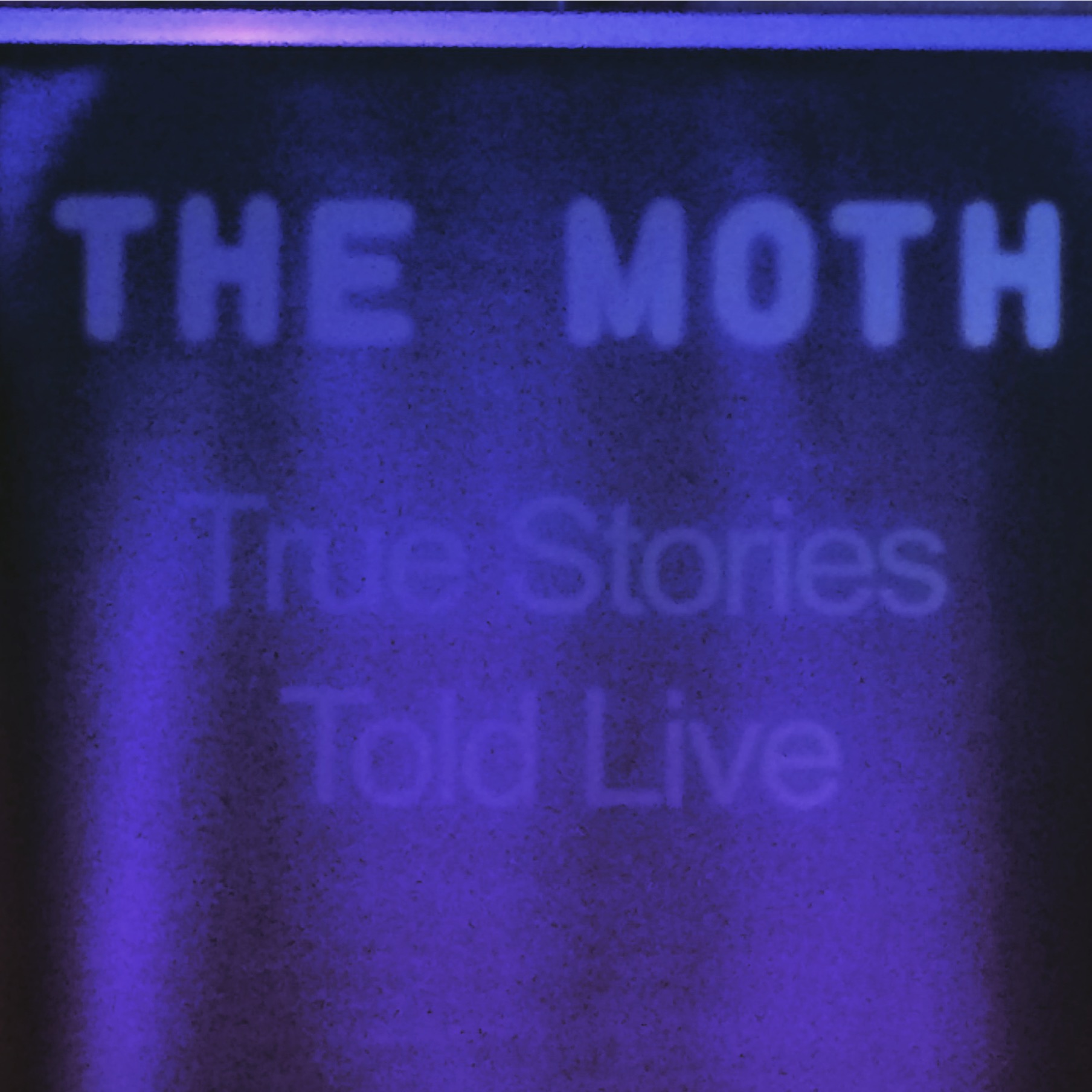 "winner" that advances on to a larger venue and then on to the "Moth Ball", a huge event in New York City. While people are telling stories, a warning whistle blows at 5 minutes. Once 6 minutes has passed, another longer whistle blows and points can be deducted due to time. There is an awesome host or hostess that MC's the evening and weaves their own stories in and around the storytellers as well as sharing "micro-stories" that the audience members have written out.
Throughout the evening, the stories are being recorded; both video recorded as well as audio and "The Moth" shares these stories on NPR, Michigan Public Radio and their podcast that is broadcasted everywhere.
The event happens monthly and I only missed a couple in the past year. I have also been listening to the podcast regularly and look forward to every new episode. Humans are so interesting and everyone has a story to tell. Because I have been on the hunt for rich, rewarding experiences in my life, I have some really cool, fun, awesome and interesting stories, a few of them brewing for the opportunity to match up with a theme at one of these events.
The StorySlam in December happened just before the holidays and while I was in Ann Arbor that night, it came to my attention that the theme for January would be "cold". PERFECT!!! One of my stories finally matches up!!! That night I committed to getting myself up on that stage in January.
So I began to rehearse my story. I rehearsed it over and over and over, probably about 30 times to my empty house over the month. There was not a lot of feedback when I performed my story to my empty couches,  but it allowed me the chance to get details figured out and hone in my words.
The event was on a Tuesday and was drawing near. As the days ticked by, I became more and more nervous. I do well in front of crowds once I get up there, but the time leading up to it can be absolutely overwhelming with nausea from nerves.
Monday that week, I am going through my regular day at Cafe of LIFE Chiropractic and when I would have a moment to think about getting on stage the next day, I would make myself sick. Monday night I could hardly sleep. Tuesday I woke up a little tired and my day was busy as usual.  It didn't help that these nervous feelings were taking over my body. I was getting myself so worked up about it I reached out to a friend.  His reply, "If you get there tonight and you feel like doing it, then do it. If not, then who cares!"
Right.
I realized in that moment that it was my perfectionist nature that was creating the stress and if I just let it go and decided to be my imperfect self, I could settle some nerves and step into a powerful place of vulnerability.
I also knew I didn't have a choice in the matter that evening…this was my evening to make it happen and to live more fully, I just couldn't let this chance pass me by.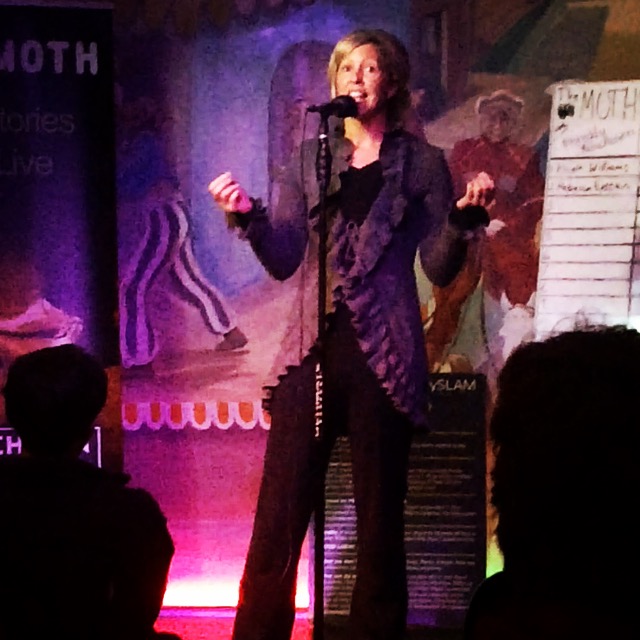 I practiced my story 4 more times on my ride down to Ann Arbor. I walked into the place, signed the rights away on my story and took my seat. A friend had gotten food for me and a little liquid courage which always helps.
The stories started and as they would randomly draw names from the bag, the nerves were so overwhelming, I didn't know if I was going to implode or explode and decided the only possible way to make it through would be to use my breath to calm me down. I also put a piece of gum in my mouth just so I could stimulate my parasympathetic, relaxation response.
After the first 2 storytellers went, my name was called. I threw the gum out of my mouth, may or may not have said a swear word and up I went.
"YOLO is a trending term. Everyone has been using the concept of "You Only Live Once" that it has been reduced down to these 4 letters.  It was 1994, I was 17 years old and I was in love…"
I knew my story was a crowd-pleaser and I knew they would get a kick out of it. I was surprised it was actually easier to tell the story onstage than at home.  When I practiced on my own, I didn't have the response of 300+ people laughing and cheering the story on. Onstage, I could feel all that presence and was also able to remain calm and mindful enough to make my words clear, rhythmical and tell a really good story.
I had a friend record it for me and was able to watch myself on stage and I am proud of what I did.
I didn't win "The Moth" StorySlam that night but it was a huge win in my life. It was something I wanted to do for over a year and decided to bust through any barriers, physical and mental, and make it happen.
Through the years, I have decided I am not going to be sitting on the sidelines of life and letting experiences pass me by. I often get private messages on Facebook and through email asking me "do you have a terminal diagnosis? Are you dying or why are you making all this stuff happen? What is driving you? What is your motivation?" It is simple…we only live once and my plan is to squeeze as much juice out of my days, weeks, months and years as I possibly can.
That Tuesday night is only the beginning of my time onstage at "The Moth". I am not sure it will be easier the next time I do it. What I do know is that I did it, I went to battle with the perfectionist that lives inside of me and won, I found some strength sharing my story standing in vulnerability, I survived and made it out the other side more fully alive, That is what life is all about.
Categories:
breath
,
Cafe of LIFE Chiropractic
,
chiropractic
,
chiropractic for kids
,
Chiropractor Fenton MI
,
chiropractor for kids
,
community
,
compliment
,
dynamic
,
edge
,
energy
,
explore
,
Fenton chiropractor
,
find a chiropractor
,
friends
,
fun
,
gratitude
,
laughter
,
learning
,
life
,
life lessons
,
pediatric chiropractor
,
play
,
public speaking
,
success