Welcome to the future!!!
Do you remember 1985 when the movie "Back to the Future" came out?  I was quite young at that point however it was an age that I can remember life and some of the specifics.
The main thing I remember is thinking that the date they were heading to in their time machine seemed like it was so far away!!  "That is forever from now!" I thought.
I also remember being in first grade and our neighbors were in fifth grade and I thought that was so old and thinking the moment I graduated from Fenton High School that my life was over.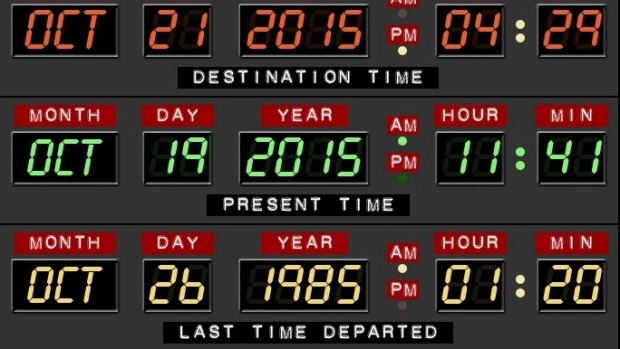 When we are young, it seems like those things are so far off, however here we are today!!!
When I think back to 1985, I was 8 years old and in third grade at State Road Elementary.  Life was simple back then and school came easy for me.  I remember some of the most stressful things happening on a daily basis would be deciding between pizza or a cheeseburger for lunch and that was it.  I remember wearing parachute pants (because I would only wear clothes my older brother wore first) and always being one of the only girls on the soccer field for recess every single day.
The span of life between then and today "the future" has been quite an adventure.  I obviously finished and graduated from Fenton High School, went on to Michigan State, transferred to Boise State University and finally graduated with my bachelors degree from University of Alaska in Anchorage.  I started my doctorate at Life University in Atalanta, GA and finished at Sherman College in Spartanburg, SC.
During that time, I married and divorced, I lived in many places all over the country, studied my little heart out and moved home to open my practice.  Since then I have started a business, traveled to many parts of the world, been on a mission trip, ran a marathon and many half-marathons, completed triathlons, been on numerous dates, bought a condo and then a home.   I became an aunt.  I have nieces and nephews I have watched grow and have helped them learn about their world, adjusted thousands and thousands of people, made money, lost money and made investments.  I have been diagnosed with a heart condition but otherwise have had good health.  I have added many friends and lost a few, added many family members and lost a few of those too.
A LOT has happened from that time to now!
Sometimes life can feel as if it is not moving and nothing is getting accomplished.  But if you really stop what you are doing right now and see if you can remember back to the time while watching that movie for a first time (I assume everyone has watched it, its such a classic), truly you have come so far and accomplished so much.  The good, the bad and the ugly, take a moment to have gratitude for all of it.  If it didn't go the way you really wanted it to, then take another moment and figure out something you can you do from this point to make a change.  Instead of waiting to make a New Year's Resolution, how about resolving to do something today that will change your trajectory in life?
There is no time like the present since today is "the future".  Welcome to the future!
Categories:
balance
,
Cafe of LIFE Chiropractic
,
chiropractic
,
chiropractic for kids
,
Chiropractor Fenton MI
,
chiropractor for kids
,
death
,
energy
,
evolution
,
explore
,
family
,
Fenton chiropractor
,
find a chiropractor
,
flow
,
friends
,
fun
,
gratitude
,
healing
,
health
,
heart
,
Innate Intelligence
,
life
,
life lessons
,
love
,
marathon
,
peace
,
pediatric chiropractor
,
play
,
present-time consciousness
,
run
,
shift
,
success
,
triathlon