I am absolutely humiliated!
A patient walked into the Cafe of LIFE last Wednesday afternoon and asked me where I was earlier that day and why I wasn't here when my office hours said I would be here.
"What do you mean?  I am always here for our office hours  Wednesday morning is 7:30a-10a."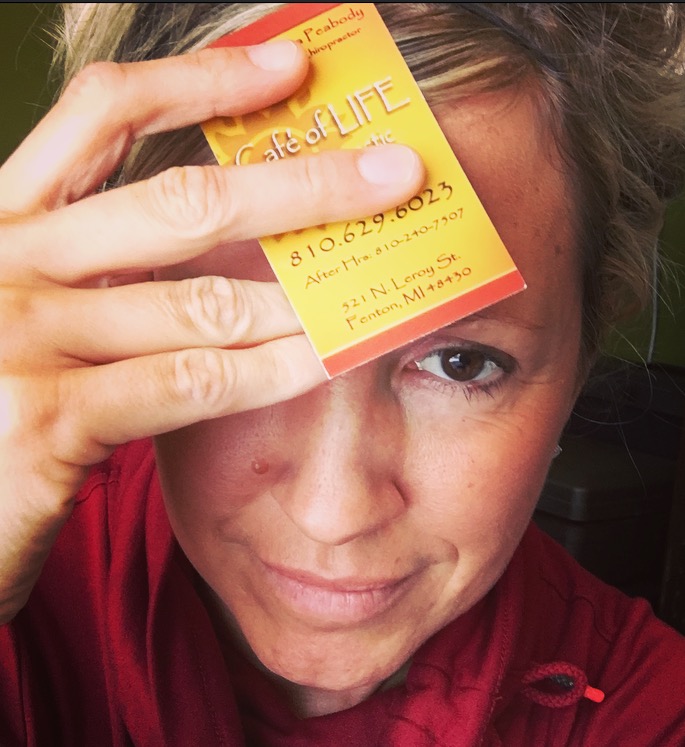 "That is not what your business card says."
When we looked closer, our business cards have our office hours as "7:30am-1pm".  For months.
Sometimes when reviewing a proof for those kinds of things, the brain will look at something, skim right over an error and make up something completely different.  That is exactly what happened.
So in essence it has looked like we just high-tail it out of here whenever we feel like it on Wednesday during that time slot.  And if you know me like most of you do by now, I would NEVER do that.
She continued, "Yeah I was talking to my mom and she said 'well she must just come and go as she pleases.' You really don't seem like that kind of a person to me."
Um…I am NOT that kind of a person and I am not that kind of professional!  I feel a lot of responsibility to all of you and there are a lot of people that rely on us.  I was born with punctuality and responsibility woven into my fabric, that is just how I am.
So needless to say we looked over all our thousands of card that I ordered just a couple months ago and realized they were all wrong.  In the meantime, every person that has come into this office, we always tell them, "Make sure to grab a card at the front desk, our hours are on the back."
OH.  MY.  GOODNESS.  I am seriously humiliated.
Yes I am only human and there are humans involved in the making and printing process of these things and mistakes can happen.
And by now I am sure you can imagine just how very GRATEFUL I am to this lady who brought this mistake to my attention!!!
The last thing I want to do is look like a slacker, and especially when I am not.
To all of you out there reading this that we may have confused and misled, I apologize and am so humiliated.  Live and learn, right?  You can bet I will have many different sets of eyes on all future materials like that.
Categories:
Cafe of LIFE Chiropractic
,
chiropractic
,
chiropractic for kids
,
Chiropractor Fenton MI
,
chiropractor for kids
,
community
,
deliberate
,
dynamic
,
energy
,
fan
,
Fenton chiropractor
,
find a chiropractor
,
friends
,
fun
,
healing
,
health
,
Innate Intelligence
,
life
,
life lessons
,
pediatric chiropractor
,
present-time consciousness
Tags:
adventure
,
cafe of life
,
Cafe of LIFE Chiropractic
,
chiropractic
,
chiropractor
,
chiropractor Fenton MI
,
chiropractor Fenton Michigan
,
community
,
doctor of chiropractic
,
family chiropractor
,
Fenton Chiropractor
,
Fenton MI
,
Fenton Michigan
,
find a chiropractor
,
find a chiropractor Fenton Michigan
,
healing
,
health
,
life
,
life lessons
,
pediatric chiropractic