The concept of "serving others" lives at the core of my being.
I remember 2 years into private practice at Cafe of LIFE Chiropractic I called my mom and said "So I wake up, eat, go to work, come home and eat lunch, go back to work, exercise, home for dinner and then to bed to get up and do it all over again.  Is this all there is?"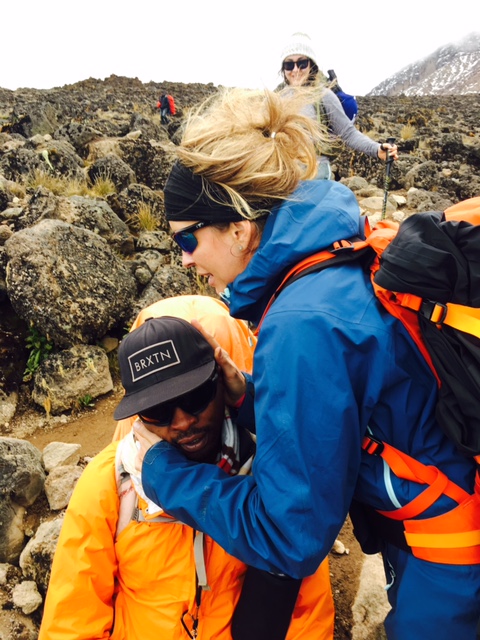 I had jobs along the way however being a chiropractor was my first true career and I opened my own practice right out of school.  I busted my behind (and still do) to get this thing up and running and 2 years into it I made a realization that this is what I would be spending my years doing and it blew my mind to think that was all there is.
When I say that, I am not ignorant to the fact that many are married with children and running families and doing the same thing, however, our lives are truly filled quite full with time spent at work.
My very next thought was…"THANK GOD I am in a profession serving others."
Service is my highest heart calling and my life has revolved around that for over 12 years in private practice and a few years beyond that during my internship at school.
It was dinnertime our second day on Mt. Kilimanjaro, we sat down and one of the first comments I heard was "Man, I really wish there was a chiropractor here."
When I am out and about in my personal life, I do not always offer up front that I am a chiropractor and since it hadn't some up in conversation yet, not many in that particular crowd knew I was.  …well until that very moment anyway.
Day 2 of the trek I still felt yucky, sore, tired and out of it.  That is not a place to "serve others" from since my own tank was on empty but it was now sitting in the back of my mind.
I could probably adjust this entire group.
It would do every single person some good in making the trek a success.
It only takes my hands.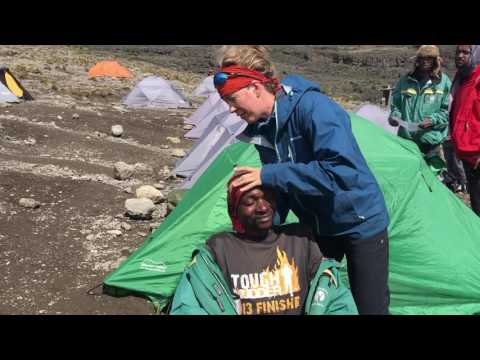 This thought sat in the back of my mind the following day as we made our way to the next campsite.  As we hiked along that next day, or porters would pass us on the trail.  As they cruised by us, they all carried about 30 pounds of stuff on top of their heads and I know one carried 30 pounds of my own stuff.  This is their job and many had been doing it for years.
From a chiropractor's eyes, it is so clear to see just how much stress has been placed on their spines and it dawned on me that I should spend any extra energy I have serving them.  The 31 women on this trek live good lives and have access to all the care they need at home.  This is not to discount their need in that moment but many of our team of porters and guides had never heard of chiropractic and had no concept of what a chiropractic adjustment could do…much less how beneficial it would be to their spines, nervous systems, health and well-being and multiply that by the fact they carry so much weight on their heads on a regular basis.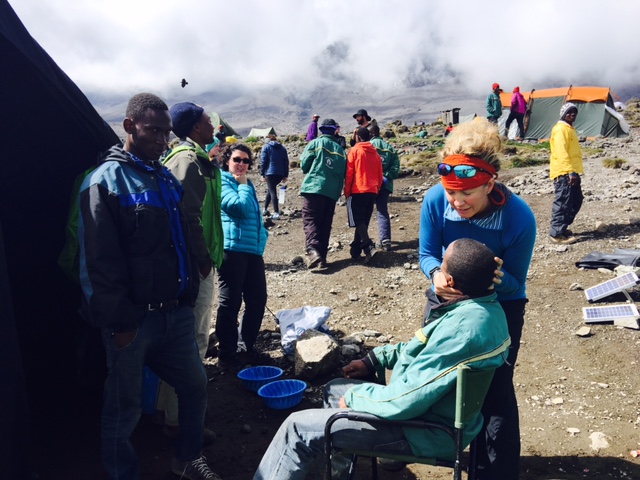 Our day 3 hike was long and tough.  I stopped part way down the trail and adjusted Kelly (my patient/friend that invited me on this trip in the first place) and that led to a couple staff members lining up to get checked. That led to me offering my services to all staff and  I opened up a make-shift office outside of the dinner tent, which pretty much just consisted of a chair that the staff could sit in so I could check and adjust their spines.
Many stood back and watched, but some jumped right in with full trust.  By serving them, my own energy lifted.  This is a usual thing that happens, even at my office here in town.  By helping others, I am helped.  By helping others to heal, I am healed.  By helping others to increase the energy inside their bodies, my energy increases.  It is the COOLEST thing about this work I do.  Serving others helps me.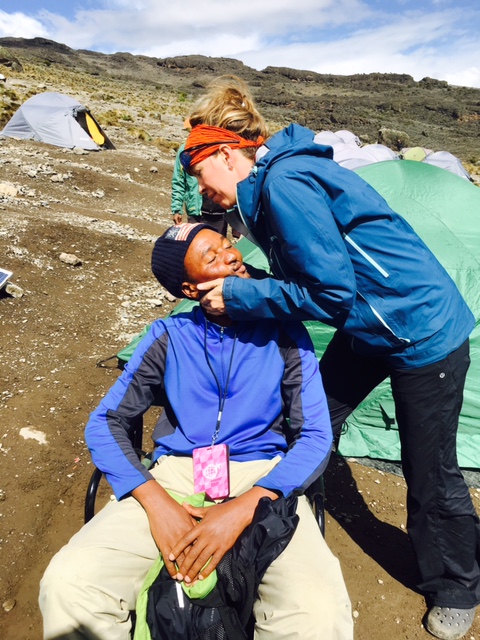 It also fills my heart and nothing is more satisfying than what happened the very next day.  I was stopped and standing on the side of the trail.  One of the guides, that was really reluctant to sit down in my chair the evening before but decided he would in the end, walked up to me and sort of whispered "That 'thing' you did to me yesterday, I have been so calm ever since.  Do you think you could do that again before you leave?"
Then the following day he stops me as says "That 'thing'…do you think you could teach me how to do that so I could help my team?"
"Success means we go to sleep at night knowing that our talents and abilities were used in a way that served others."  -Marianne Williamson
There is serious power in those adjustments, every chiropractic adjustment is powerful and I often wish you all could feel what I feel in my hands.  Being able to release healing energy inside of the body to allow people to be stronger, healthier and adapt to the internal and external stresses in their lives better, I would argue it is one of the greatest things in life.
Serving others truly is one of the greatest things in life.
I am blessed and lucky to be spending my days waking up, eating, going to work at the Cafe, coming home and eating lunch, going back to work, exercising, then home for dinner and then to bed to get up and do it all over again the next day serving others.
Categories:
blog
,
blogging
,
breath
,
Cafe of LIFE Chiropractic
,
chiropractic
,
chiropractic for kids
,
Chiropractor Fenton MI
,
chiropractor for kids
,
community
,
edge
,
energy
,
evolution
,
explore
,
Fenton chiropractor
,
flow
,
fun
,
healing
,
health
,
heart
,
help
,
Innate Intelligence
,
Kilimanjaro
,
learning
,
life
,
life lessons
,
love
,
miracles
,
Mom
,
Mt Kilimanjaro
,
present-time consciousness
,
rejuvinating
,
relaxing
,
service
,
volunteer